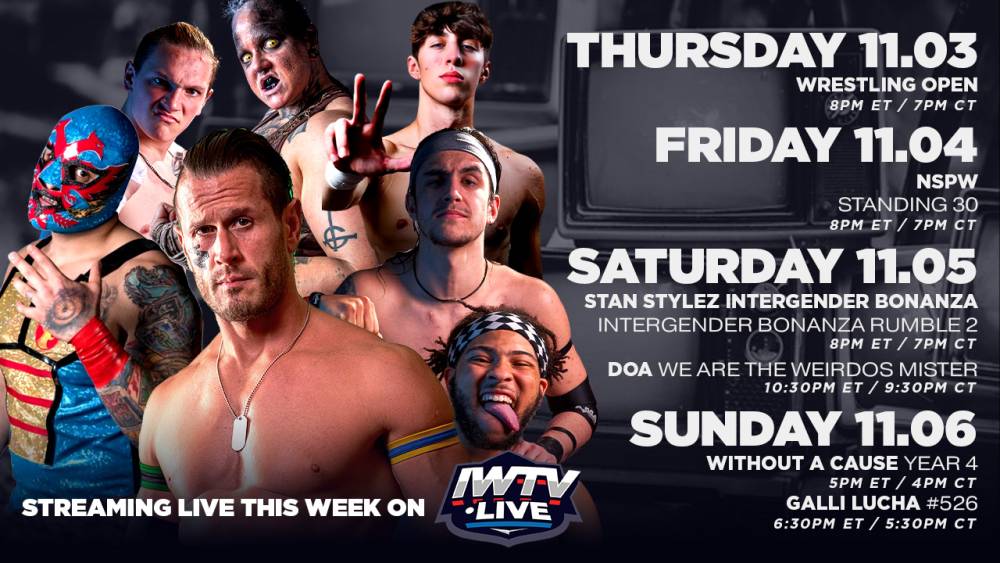 This Weekend On IWTV: Wrestling Open, Without A Cause and more!
Seven event streams live on IWTV this weekend featuring shows from Wrestling Open, NSPW, Intergender Bonanza, PWF (TX), DOA, Without A Cause and GALLI Lucha.
Thursday, 11/3, 8pm EDT - Wrestling Open Episode 44
Eliminator Cup: Miracle Generation (c) vs Shook Crew
Brad Hollister vs Ichiban
Steven Stetson vs Tyree Taylor
Dan Barry vs Ray Jaz
Friday, 11/4, 8pm EDT - NSPW presents Standing 30
Matt Falco and Alex Silva vs Mike Marston and Kevin Blanchard
Alex Shelley vs Matt Angel
Yayne Harrison vs Benjamin Tull
Standing 30 Rumble
Saturday, 11/5, 8pm EDT - Intergender Bonanza Rumble 2
Reid Walker vs Davienne
Marc Angel vs Kasey Kirk
Rob Chase vs Lady Blakely
Marcus Mathers vs Adena Steele vs Brittany Blake vs Steve Scott vs Gabby Ortiz vs Darien Hardway vs Ty Awesome vs Siceno
Saturday, 11/5, 8pm EDT - PWF (TX) presents Burnout
Premier Championship, TLC Match: Kenny Kalypso vs AWOL vs Maniac
Woman's Premier Championship: Raychell Rose vs Maris Blair vs Mia Friday
PWF Lonestar Championship: El Valdivia vs T-Ray vs BD Brawley vs Lil Papi vs Tommy Bolton
PWF Tag Team Championship: The Bulldogs vs Legion
Chris Carter vs JJ Blake
Lowrider vs Diego De La Cruz
Savage King vs Brick Savage
Jus Nick vs Jase Onsei
Saturday, 11/5, 10:30pm EDT - DOA presents We Are The Weirdos Mister
Wasteland War Party (Heidi Howitzer and Max The Impaler) vs Most Violent (Drexl and Funny Bone)
Jaiden vs Steve Migs
Sonico vs El Chupacabra
DOA Grand Championship: Rebel Kel (c) vs Keita Murray
Drake Kwon vs Max Burnside vs Pitfall Jones vs Abigail Warren
Amira vs Dean Cooper
The Bash Bros vs Konami Code
The Academy vs High 5 and Flamin Aces
Sandra Moone vs Zeb Saint
Sunday, 11/6, 5pm EDT - Without A Cause presents Year 4
WAC Championship: Keita Murray (c) vs Max The Impaler
Stallions Championship: Jordan Cruz (c) vs Pitfalls Jones
State Of Emergency and Sonico vs The Sweethearts (Rebel Kel, Sandra Moone and Abigail Warren)
Nick Wayne vs Steve Migs
Al Jepsen vs Dale Springs
C4 vs The Bash Bros
Drexl vs El Chupacabra vs Heidi Howitzer vs Kris Brady vs Carl Randers
Jaiden vs Max Burnside
Malcolm Phlex vs Rook Kelly
Rashad Tyson vs Mickey Mantoya
Sunday, 11/6, 6:30pm EDT - GALLI Lucha 526
Watch all six streams live with your IWTV subscription.