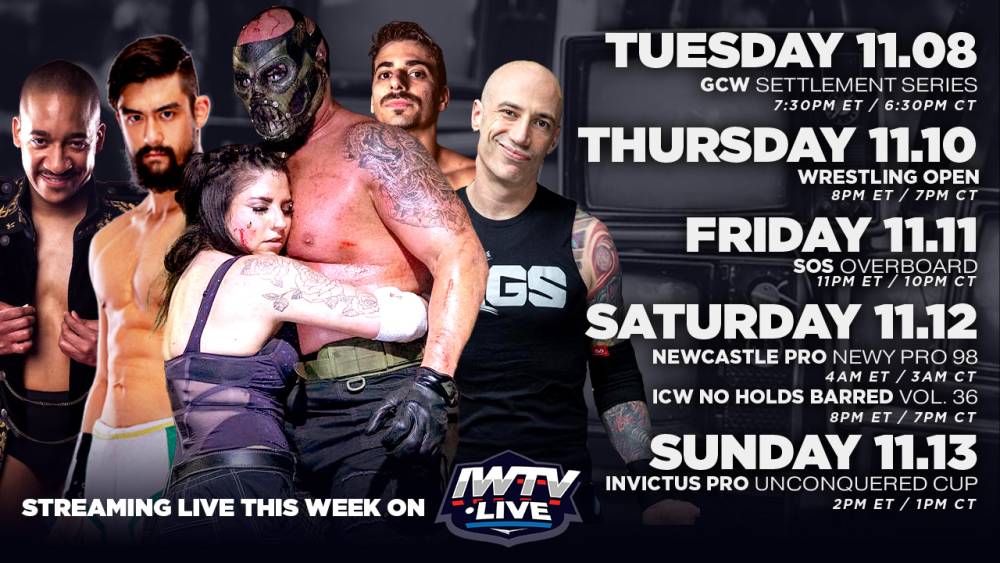 This Week On IWTV: Krule defends World Title against Tremont at ICW NHB & more!
Six events stream live this week on IWTV featuring shows from GCW, Wrestling Open, SOS, Newcastle Pro, ICW No Holds Barred and Invictus Pro.
Saturday's ICW No Holds Barred event will see Krule defend the IWTV Independent Wrestling World Championship against Matt Tremont in a death match.
Tuesday, 11/8, 7:30pm EST - GCW Settlement Series 6 streams LIVE on IWTV
Thursday, 11/10, 8pm EST - Wrestling Open Episode 45
Wheeler YUTA vs Dustin Waller
Mane Event, Brad Hollister and ? vs Kylon King, Ichiban, Austin Luke and Marcus Mathers
Aaron Rourke vs Allie Katch
Davienne
Kennedi Copeland
B3CCA
Paris Van Dale
Friday, 11/11, 11pm EST - SOS Pro Wrestling presents Overboard LIVE on IWTV
Island Rumble
SOS Championship: Steve Migs (c) vs Malcolm Phlex
SOS Tag Team Championship: Ethan HD and Carl Randers vs Re:Loaded
Diego Valentine vs Taryn from accounting
C.A.T. vs The Academy
Saturday, 11/12, 4pm EST - Newy Pro 98 streams LIVE on IWTV
RIG and Dazza vs The Exception (Carter Deams and Ben Braxton)
Paris De Silva vs Rita Stone
Saddle Club (Shayne Sheffield-Sinclair and Jake Walker) vs NSW (Frankie B and Will Kiedis)
Saturday, 11/12, 8pm EST - ICW No Holds Barred streams LIVE on IWTV
American Deathmatch Championship: Kasey Kirk (c) vs Mickie Knuckles
IWTV Independent Wrestling World Championship: Krule (c) vs Matt Tremont
HoodFoot vs Dr. Redacted
Gary Jay vs Aaron Williams
Danny Demanto vs Brandon Kirk
AKIRA vs Bam Sullivan
Kristian Ross vs Chris Bradley
Sunday, 11/13, 2pm EST - Invictus Pro presents The Unconquered Cup LIVE on IWTV
Invictus Pro Tag Team Championship, New York Street Fight: Milk Chocolate (c) vs Fight Or Die
Lucas Chase vs PJ Savage
Shea McCoy vs Vicious Vicki
Weber Hatfield vs Mantequilla vs Nolo Kitano vs Jarret Diaz vs Matt Awesome vs Nicholi White
First Round: Darius Carter vs Gabriel Skye
First Round: Killian McMurphy vs Ken Broadway
First Round: Robert Martyr vs TJ Crawford
First Round: Big Game Leroy vs ??
Watch all six streams live with your IWTV subscription.