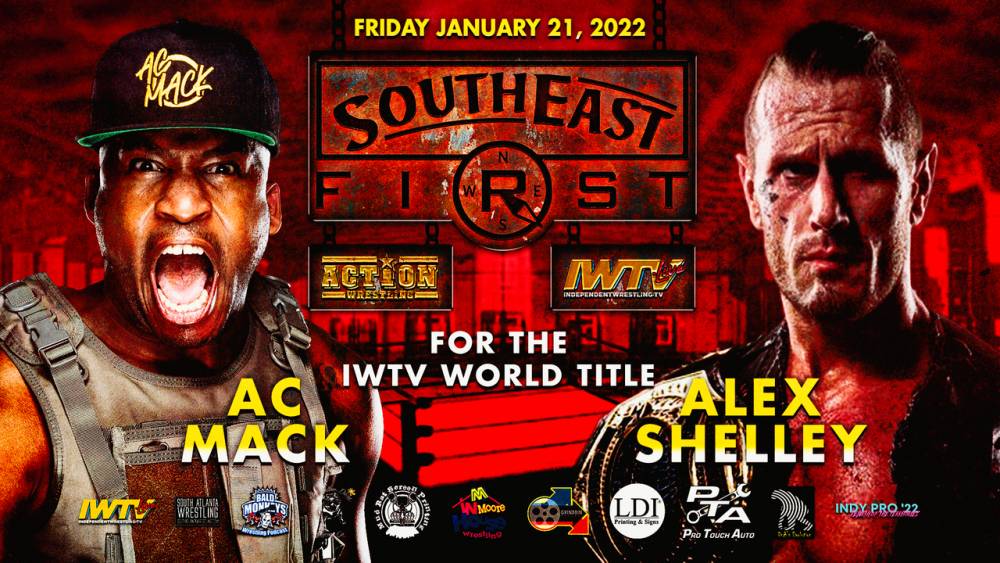 Southeast First super show streams Friday on IWTV
The ACTION Wrestling and IWTV super show, Southeast First, streams live on IWTV this Friday night (1/21) at 7:30pm EST.
The special southern showcase event will see the Pro Wrestling Illustrated-sanctioned number one contender, AC Mack, challenge Alex Shelley for the IWTV Independent Wrestling World Championship.
Mack is a former ACTION, SUP and Southern Honor Champion, and has been chasing a championship match since winning the Scenic City Invitational in August of 2021.
In addition to the Shelley vs Mack showdown, Southeast First will host championship matches from PWX, New South, Southern Honor and TWE, and features talent representing SUP, PWF, the Scenic City Invitational and ACTION Wrestling.
Announced for Southeast First:
PWX Championship: Jon Davis (c) vs Drew Adler
Southern Honor Wrestling Championship: Owen Knight (c) vs Kyle Matthews
TWE Championship: MERC (c) vs Damyan Tangra
New South Championship: Rolando Perez (c) vs Brandon Williams vs Donnie Janela vs Chris Crunk
Team PWF (Diego Hill, Bojack and BK Westbrook) vs Team ACTION (Ashton Starr, Bobby Flaco and Brogan Finlay)
ACTION presents Adam Priest vs Anthony Henry
SUP and ACTION present Violence Is Forever (Dominic Garrini and Kevin Ku) vs Arik Royal and Jaden Newman
Scenic City Invitational presents Landon Hale vs Eli Knight
Watch Southeast First live with your IWTV subscription.