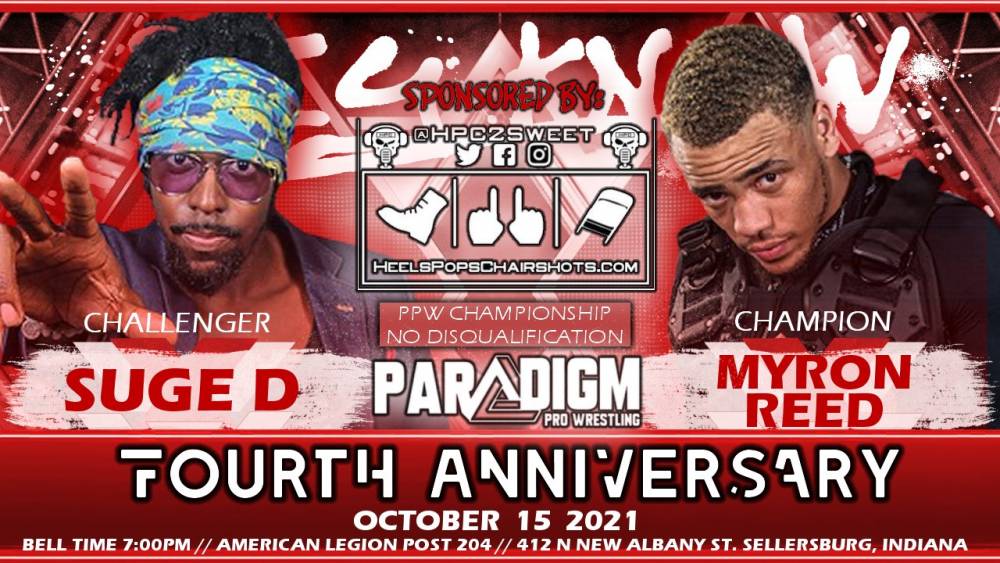 Paradigm Pro celebrates four years with Friday night double feature
Paradigm Pro Wrestling celebrates their four year anniversary with a huge double feature Friday night (10/15) live on IWTV.
The two card super event begins at 7pm EDT with Dey Know and continues at 9:30pm EDT with As The Rush Comes. The shows will feature six championship matches, including the long awaited showdown between PPW champion Myron Reed and Suge D.
Dey Know
Paradigm Pro Championship: Myron Reed (c) vs Suge D
Midwest Territory Chain: Calvin Tankman (c) vs Shane Taylor
Cole Radrick vs Davey Richards
Paradigm Pro Tag Team Championship: The Ody (c) vs Lost Boys vs Mandatory Violence Connection
Brayden Lee vs Zay Washington
Charlie Kruel vs Joseline Navarro vs Kayla Kassidy vs Billie Starkz
Merrik Donovan vs Freddie Hudson
As The Rush Comes
Paradigm Pro Heavy HItters Championship: Matt Makowski vs Isaiah Broner
Brass Knuckles Championship: Hoodfoot vs Flash Thompson vs Bobby Beverly vs Josh Crane vs Ron Mathis
AKIRA vs Tommy Vendetta
Austin Connelly vs Davey Richards
Paradigm Pro Super Middleweight Championship: Jordan Blade (c) vs Janai Kai
Max Zero vs Derek Neal
Travis Huckabee vs Sidney Von Engeland
Gregory Iron vs Bruce Grey
Shea McCoy vs Eden Von Engeland
Jeffrey John vs Victor Analog
You can watch the entire double feature live with you IWTV subscription.