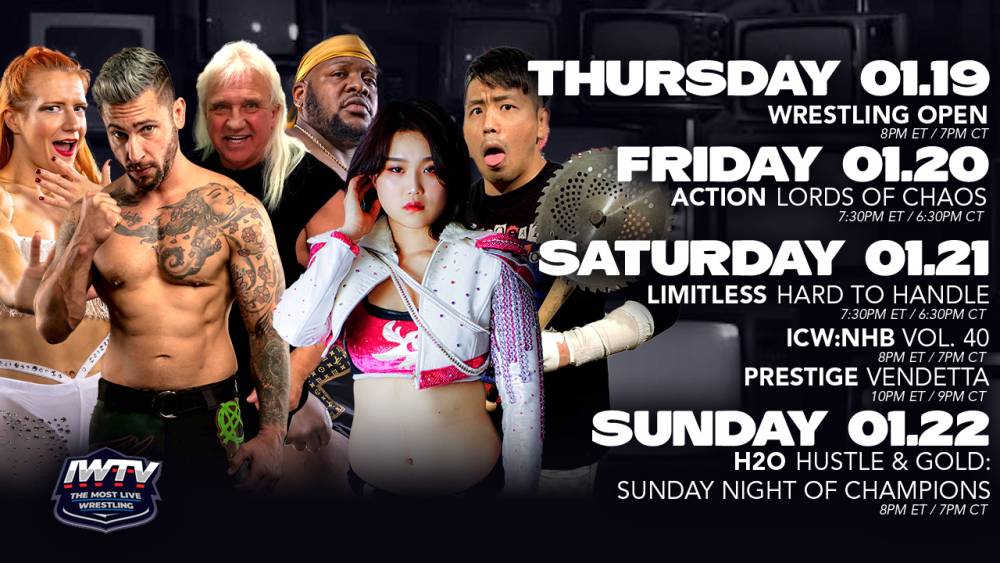 LIVE This Week On IWTV: ICW No Holds Barred, Prestige, H2O & more!
Six events stream live on IWTV this week, featuring huge shows from Wrestling Open, ACTION, Limitless, ICW No Holds Barred, Prestige and H2O.
The slate of events includes major championship defenses, international dream matches, death matches and more.
Thursday, 1/19, 8pm EST - Wrestling Open streams LIVE on IWTV:
Miracle Generation vs Brick City Boyz
B3CCA vs Notorious Mimi
Best Bros vs Ted Goodz and LMK
Tina San Antonio vs Layla Luciano
Aaron Rourke vs Marcus Mathers
Friday, 1/20, 7:30pm EST - ACTION presents Lords Of Chaos LIVE on IWTV:
ACTION Championship, No Disqualification, No Ropes: Anthony Henry (c) vs Adam Priest
Culture Inc vs The Skulk
Suge D vs AC Mack
O'Shay Edwards vs Brogan Finlay
Alex Kane vs Damyan Tangra
The Re-Up (Ashton Starr and Rico Gonzalez) vs Jaden Newman and Noah Hossman
Bobby Flaco vs Billie Starkz
Saturday, 1/21, 7:30pm EST - Limitless presents Hard To Handle LIVE on IWTV:
Ricky Morton vs Channing Thomas
Dezmond Cole vs Alec Price
B3CCA vs Janai Kai
Big BEEF vs Andy Brown
Saturday, 1/21, 8pm EST - ICW No Holds Barred Vol. 40 streams LIVE on IWTV:
American Deathmatch Championship: Brandon Kirk (c) vs John Wayne Murdoch
Toshiyuki Sakuda vs Eric Ryan
Matt Tremont vs HoodFoot
Dr. Redacted vs Neil Diamond Cutter
Crowbar vs Tommy Vendetta
AKIRA vs Eric Dillinger
The Bev vs Jeff Cannonball
Saturday, 1/21, 10pm EST - Prestige presents Vendetta LIVE on IWTV:
Miyu Yamashita vs Athena
Kevin Blackwood vs MAO
Robert Martyr vs Kidd Bandit
Shunma Katsumata vs Sonico
Evil Uno vs Jacob Fatu
Tyler Bateman vs Davey Richards
Los Suavecitos vs West Coast Wrecking Crew
B-Boy vs Jordan Cruz
Sunday, 1/22, 8pm EST - H2O's Hustle & Gold: Sunday Night Of Champions streams LIVE on IWTV:
IWTV Independent Wrestling World Championship: Matt Tremont (c) vs Jaden Newman
Brandon Kirk vs Manders
Neil Diamond Cutter vs Toshiyuki Sakuda
John Wayne Murdoch vs Deklan Grant vs Jimmy Chondo Lyon
Chris Bradley vs Kennedi Copleand
Kristian Ross vs Jess Moss
H2O Tag Team Championship: Red Dead Redemption (Manders and Ryan Redfield) vs KAOS CTRL
Hybird Championship: GG Everson (c) vs Mouse vs Bruce Grey vs Tyler Voxx vs Adonis Valerio vs Bam Sullivan
Mouse vs Marcus Mathers
Ron Mathis vs Jeff Cannonball
Watch all six events LIVE with your IWTV subscription.