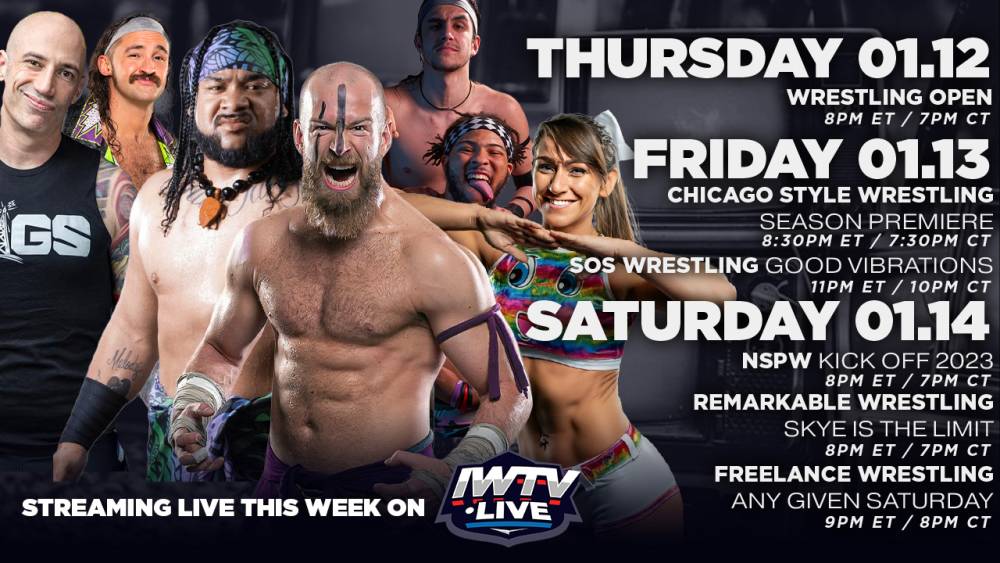 Live This Week On IWTV: Wrestling Open, Freelance & more!
Six events stream live this week on IWTV featuring shows from Wrestling Open, Chicago Style Wrestling, SOS Wrestling, NSPW, Remarkable Wrestling and Freelance.
Thursday, 1/12, 8pm EST - Wrestling Open streams LIVE on IWTV:
Skywalker Championship: Anthony Greene (c) vs Brett Ryan Gosselin
Ichiban vs Ray Jaz
Brad Hollister vs Gabriel Skye
Ryan Clancy vs TJ Crawford
Anastasia Morningstar vs Clara Carreras
Friday, 1/13, 8:30pm EST - Chicago Style Wrestling debuts on IWTV LIVE:
CSW Championship: Axel Rico (c) vs Jacob Fatu
CSW Women's Championship: Sierra (c) vs Shelly The Bombshell
CSW Tag Team Championship: Hatekeepers (c) vs Big Mood
Steve Boz vs Victor Iniestra
Conan Lycan vs Cody James
CJ Esparza vs Joey Jet Avalon vs Heather Reckless vs Greg Murray vs Chris Miller
Eric Schultz, Solomon Tupu and TBD vs Joey Mayberry, Marshe Rockett and Adam Stallion
Friday, 1/13, 11pm EST - SOS Pro Wrestling presents Good Vibrations LIVE on IWTV:
SOS Pro Wrestling Championship: Steve Migs (c) Kikyo
Tag Team Championship: Re:Loaded vs The Academy
Island Rules Championship: Ghost Pirate Brian vs Judas Icarus
Vipress vs Rebel Kel
Malcolm Phlex and C.A.T. vs Adam Brooks and The Hash Bros
Vicky Dreamboat vs Bambi Hall
Dean Cooper vs Alexi Suplexi vs Drake Kwon
KC Rasslehoff vs Pitfall Jones
Saturday, 1/14, 8pm EST - NSPW presents Kick Off 2023 LIVE on IWTV:
Alex Silva vs Matt Taven
Stu Grayson and Michel Plante vs Stephen Sullivan and a mystery partner
Saturday, 1/14, 8pm EST - Remarkable Wrestling's Skye Is The Limit streams LIVE on IWTV:
Remarkable Wrestling Championship: Gabriel Skye (c) vs Ken Broadway
Tag Team Championship: Miracle Generation vs Fight Or Die
Evander James vs Sage Chantz vs Georgio Lawrence vs Tommy Rant vs Shawn Knyte vs Dolli Darko
6 Way Riot Championship Ladder Match: Tristen Thai vs Cono Cappuccia vs Sal Savelli vs Adonis Stone vs Zagan Rivers vs ???
Midnight Cowboys vs Percy Ryan and Jesse Danielsen
Call Your Shot Gauntlet: Dezmond Cole vs Bobby Buffet vs Alvin Alvarez vs Brother Greatness vs Jordan Collins
Saturday, 1/14, 9pm EST - Freelance Wrestling's Any Given Saturday streams LIVE on IWTV:
Freelance World Championship: Robert Anthony (c) vs Ricky Morton
Freelance Tag Team Championship: Bang Bros (c) vs Locked & Loaded
Kylie Rae vs Raychell Rose
NWA Jr Heavyweight Championship: Kerry Morton (c) vs GPA
Storm Grayson vs EFFY vs Trevor Outlaw
Blair Onyx vs Heather Monroe vs Free-Range Kara
David Ali vs Evan Greenaway vs Craig Mitchell vs Sorta Incredible Iverson vs Bucky vs Connor Hopkins
Watch all six streams LIVE with your IWTV subscription.