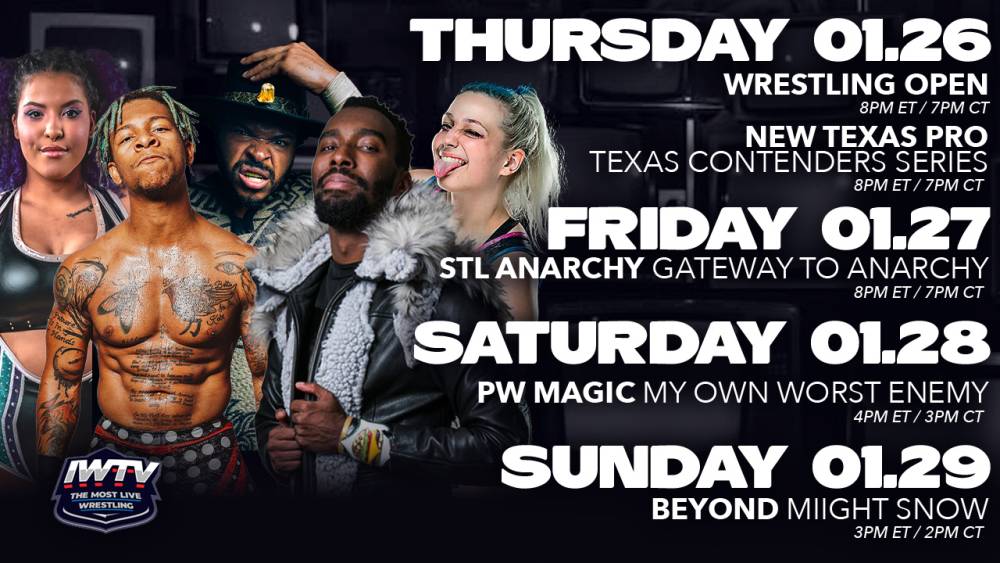 LIVE This Week on IWTV: St. Louis Anarchy, Beyond Wrestling & more!
Five events streams live on IWTV this week featuring the Texas Contenders Series 11, plus shows from Wrestling Open, St. Louis Anarchy, Pro Wrestling Magic and Beyond Wrestling.
Thursday, 1/26, 8pm EST - Texas Contenders Series 11 streams LIVE on IWTV:
Bryan Keith vs Dante Leon
Hyan vs Amaris Blair
AWOL vs Sam Stackhouse
Loko Championship: Ninja Dragon vs Chris Carter
Genesis Championship: Mia Friday (c) Mystii Marks
Caine Carter vs Prince Alexander
Kiefer Bartek vs Just x Nic
Pac Ortega vs Eddie Martinez
Thursday, 1/26, 8pm EST - Wrestling Open streams LIVE on IWTV:
Lio Rush vs Dustin Waller
Brooke Valentine vs Anastasia Moringstar
Brad Hollister vs Eel O'Neal
Mutually Assured Destruction vs Mane Event
Channing Thomas vs Love, Doug
Friday, 1/27, 8pm EST - St. Louis Anarchy presents Gateway To Anarchy 2023 LIVE on IWTV:
Gateway Heritage Championship: Derek Neal (c) vs WARHORSE
Destination Championship: Christian Rose (c) vs Kenny Alfonso
Manders vs Gary Jay
Thomas Shire vs Davey Vega
Jeremy Wyatt vs Mad Dog Connelly
Anakin Murphy vs Craig Mitchell
Adrian Surge vs Aaron Williams
Evan Gelistico vs Victor Analag
KC Karrington, Moonshine Mantell, Kayla Kassidy and Nick King vs Billy McNeil, Austin Blackburn, Camaro Jackson and Nikki Victory
Saturday, 1/28, 4pm EST - Pro Wrestling Magic presents My Own Worst Enemy LIVE on IWTV:
Jr Heavyweight Championship: Vinny Pacifico (c) vs Cheeseburger
Dark Arts Championship: Steve Off (c) vs Chris Ryan
Pro Wrestling Magic Championship: Kerr (c) vs The Wrecking Ball
Ruthless LaLa and JC Storm vs Brittany Jade and Emily Jay
Craig Steele vs Alex Reiman
Sunday, 1/29, 3pm EST - Beyond Wrestling's Miight Snow streams LIVE on IWTV!
Lio Rush vs Alec Price
Marcus Mathers vs Wheeler YUTA
Willow Nightingale vs Ichiban
Miracle Generation (Kylon King and Dustin Waller) vs Masha Slamovich and AKIRA
Trish Adora vs Manders
Mane Event vs Best Bros
Janai Kai and Yoya vs Above The Rest (Tristen Thai and Gabriel Skye)
Allie Katch vs Love, Doug
Kris Brady vs Dezmond Cole
Bobby Orlando vs B3CCA
Brad Hollister vs Ryan Clancy
plus Tracy Williams, Matt Tremont, SLADE, CPA, Aaron Rourke and more!
Watch all five events live with your IWTV subscription.