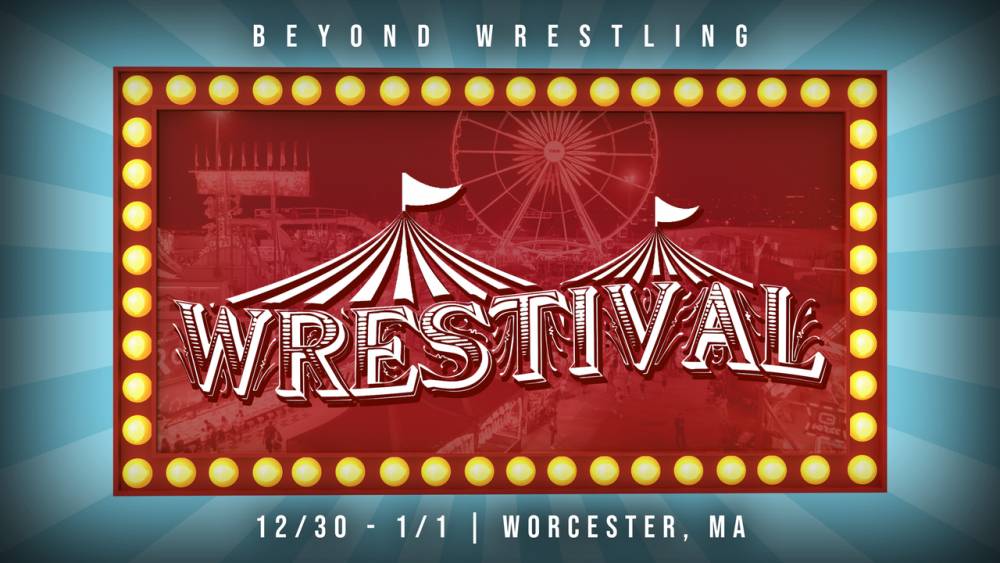 IWTV closes out 2021, rings in New Year, with Wrestival
IWTV closes out 2021 and rings in the New Year with a huge multi-day Wrestival in Worcester, Massachusetts from December 30th-January 1st.
The weekend features major events from Pizza Party, Beyond Wrestling, SUP and ACTION, H2O and Limitless.
Thursday, 12/30, 4pm EST - Pizza Party Wrestling presents Big Eyes, Bigger Dreams
Mask vs Mask: The Outfielders vs Dan Champion and Avery Good Professional Wrestler
Violence Is Forever vs Kings Of The District vs The Mane Event vs Salt The Earth
Kennedi Copeland vs Myles Millennium
Little Mean Kathleen vs Brother Greatness
Pancakes vs Hunter Drake
Big Game Leroy vs Robbie Radke
Karen BamBam vs Brooke Valentine
Jaden Newman vs King Crab
Thursday, 12/30, 8pm EST - Beyond Wrestling presents Uncharted Territory, Season Four Finale
Jordan Blade vs Matt Makowski
B3CCA vs Kennedi Copeland
Violence Is Forever vs Waves And Curls
Mane Event vs Brick City Boyz
Tag Team Discovery Gauntlet: Miracle Generation vs Above The Rest
Richard Holliday vs Teddy Goodz
Ryan Galeone vs VSK
Little Mean Kathleen vs Cam Zagami
Friday, 12/31, 3pm EST - ACTION and SUP present KEVINNN!!
Violence Is Forever (Kevin Ku and Dominic Garrini) vs Tracy Williams and Wheeler YUTA
AC Mack vs SLADE
Jaden Newman vs Avery Good Professional Wrestler
Alec Price vs Adam Priest
Ashton Starr vs Davienne
Rip Byson vs Bobby Flaco
Pete Youngblood vs Austin Luke
Friday, 12/31, 8pm EST - Beyond Wrestling presents Heavy Lies The Crown
Fans Bring The Weapons: Kimber Lee vs Masha Slamovich
SLADE vs JD Drake
Trish Adora vs Megan Bayne
Alec Price vs Leyla Hirsch
IMPACT Digital Media Championship: Jordynne Grace (c) vs Willow Nightingale
Jonathan Gresham and Rhett Titus vs Wheeler YUTA and Tracy Williams
Dan Barry vs Vincent
44.OH! (Rickey Shane Page, Gregory Iron and Bobby Beverly) vs Club Cam (Bobby Orlando, Bryce Donovan and Aaron Rourke)
Max The Impaler vs Jody Threat
Saturday, 1/1, 1pm EST - Wrestling Open
Saturday, 1/1, 5pm EST - H2O Wrestling presents Massacre In Massachusetts
Chairs and Chains: Bobby Beverly vs Mitch Vallen vs Drew Blood vs Dale Patricks Frank Bonetti and Adonis Valerio vs Ryan Redfield and Frankie Pickard
Masha Slamovich vs Mickie Knuckles
Barbed Wire Massacre: The Kirks vs Matt Tremont and Kennedi Copeland
Danny Havoc Hardcore Championship: Lucky 13 v(c) s Chuck Payne
Austin Luke vs Reid Walker
H2O Tag Team Championship: Kristian Ross and Chris Bradley (c) vs GG Everson and Anthraxx
Saturday, 1/1, 9pm EST - Limitless Wrestling presents Limitless Worcester
Limitless World Championship: Alec Price (c) vs JD Drake
Rip Byson vs Masha Slamovich
Ace Romero vs Anthony Henry
MSP vs Prestigious
Ashley Vox vs Jody Threat
ARTE (Ava Everett, Aaron Rourke and Ricky Smokes) vs Waves and Curls and Love, Doug
Anthony Greene vs B3CCA
Wrestival ticket packages and individual event tickets are on sale now at ShopIWTV
You can watch every Wrestival event live with your IWTV subscription.