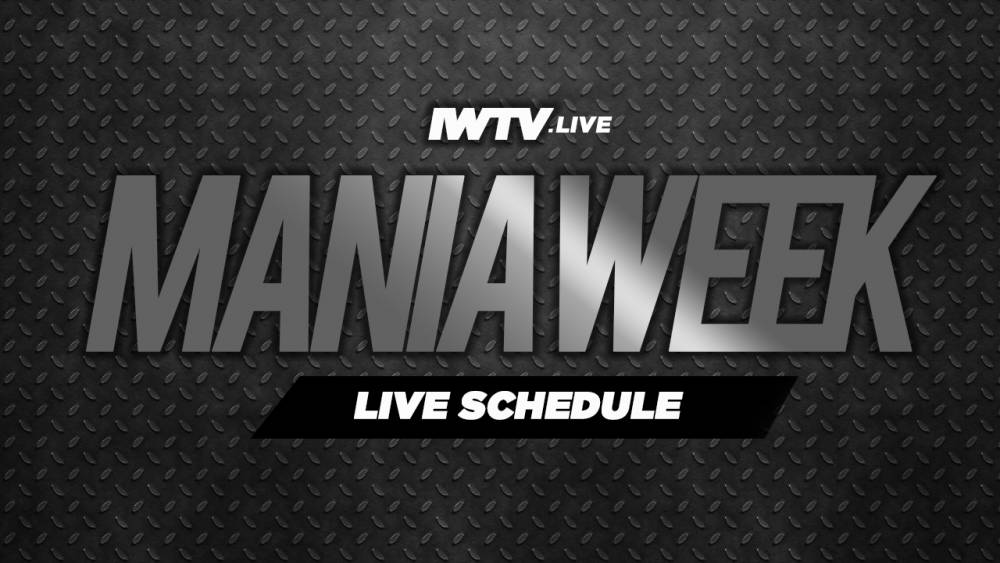 IWTV Event Guide: Mania Week 2019 Full Schedule
We're excited to present to you EIGHT live streaming events during Wrestlemania week starting on Wednesday April 3rd with the Series Premiere of Beyond Wrestling's Uncharted Territory!
Plus, for the first time ever a Game Changer Wrestling event will be streaming live here on IWTV as GCW presents Orange Cassidy Is Doing Something Or Whatever, Who Knows??? on Saturday, April 6 at 12pm EDT from The Collective in Jersey City, New Jersey.
New Subscribers: Use promo code MANIAWEEK and you'll get your first 20-days for free!
Wendesday 4/3:
Beyond Wrestling, Uncharted Territory, Episode One (8pm EST)
Masato Tanaka vs David Starr
So Cal Uncensored vs Chris Dickinson and LAX (Ortiz & Santana)
Dream Partners Tag Team Match:
Orange Cassidy & ??? vs Jordynne Grace & ???
The Beaver Boys (Johnny Silver & Alex Reynolds) have issued an OPEN CHALLENGE
Plus: Maxwell Jacob Friedman and more TBA
Thursday, 4/4:
IWTV, Family Reunion (12pm EST)
European Rounds for the IWTV Independent Championship:
Orange Cassidy (c) vs Jonathan Gresham
PWA Black Label presents
Jack Bonza & Mick Moretti & Unsocial Jordan vs Robbie Eagles & Caveman Ugg & Bel Pierce
St Louis Anarchy presents "Last Man Standing"
Gary Jay vs Jake Parnell
Women's Wrestling Revolution presents
Shazza McKenzie & Jessica Troy vs Kimber Lee & Kris Statlander
Alpha-1 Wrestling presents
Space Monkey & Shane Sabre & BMD vs Justin Sane & Kody Lane & Kobe Durst
ACTION Wrestling presents for the ACTION Championship
AC Mack (c) vs Fred Yehi
Southern Underground Pro presents
O'Shay Edwards & Mr Brickster & Cabana Man Dan vs Kevin Ku & Dom Garrini & Brett Ison
Plus more TBA featuring CTW Portugal's Red Eagle, F1RST Wrestling's Arik Cannon and more!
Inter Species Wrestling, Boner Jam IV: Balls Out (7:30pm EST)
Fans Bring the REDACTED Death Match for the King of Crazy Championship:
Addy Starr (c) vs Matt Tremont vs Jeff Cannonball vs Nick Gage
REDACTED = you know, the brightly colored toy blocks that we can't legally mention
Sexxxy Eddy vs Swoggle
Team Tremendous vs Gym Nasty Boys
Chris Dickinson vs Chris Brookes
Tony Deppen vs Jigsaw vs Werewolf of Wallstreet vs Sanchez
Kickin N Stompin vs The Butcher & The Blade
Jae Rukin vs Daniel Makabe
Fluffy vs LSG
Bastian Snow International Food Fight Invitational
Friday, 4/5:
CHIKARA, Once Upon A Beginning (12pm EST)
Ladder Match for the CHIKARA Grand Championship:
Mr Touchdown vs Dasher Hatfield
Golden Dream Atomicos Match:
Thunderfrog & Jigsaw & Razerhawk & Chuck Taylor vs Arik Cannon & Hermit Crab & Cam Zagami & Hallowicked
Trios Action:
The Colony vs FIST
For the Young Lions Cup:
Still Life with Apricots and Pears (c) vs Carlos Romo
CCK vs Crummels & Defarge
A-Kid vs Air Wolf
Black Label Pro, Adventures In Wrestling (3:30pm EST)
Street Fight for the BLP Championship:
Ethan Page (c) vs Kobe Durst
Nick Gage vs Swoggle
Yoshino vs Jonathan Gresham
Orange Cassidy vs Bryan Alvarez
For the BLP Tag Team Championship:
Space Pirates (c) vs Team Whitewolf vs Tre Lamar & Jake Lander vs Sammy Guevara & Robbie Eagles
Team International vs Team USA:
Shazza McKenzie & Charli Evans & Jessica Troy & Indi Hartwell & Zoe Lucas vs Jordynne Grace & Kylie Rae & Nicole Savoy & Shotzi Blackheart & Samantha Heights
Jake Parnell & Chris Dickinson & Rory Gulak vs Gary Jay & AJ Gray & Curt Stallion
Manny Fernandez & Tank vs Sadkampf (Kevin Ku & Dom Garrini)
Wrestling with Wregret presents Brian Zane's Million Dollar Battle Royal
Saturday, 4/6:
Game Changer Wrestling, Orange Cassidy Is Doing Something Or Whatever, Who Knows??? (12pm EST)
Shinjiro Otani vs Jonathan Gresham
One Minute Time Limit:
Chuck Taylor vs Trent?
Yuletide Death Match
Nick Gage vs Ultramantis Black
Five O'Clock Somewhere - Last Person Standing Match:
Nate Webb vs Session Moth
Teddy Hart's Reading Rainbow
... and more to be announced, maybe?
IWS, Unstoppable (4pm EST)
Matt Tremont vs Nick Gage vs The Green Phantom
Alcobrawl Match:
Sexxxy Eddy vs Arik Cannon
For the IWS Womens Championship:
Addy Starr vs Solo Darling vs Veda Scott
Ophidian vs Kevin Blanchard
Benjamin Tull vs Rory Gulak
More TBA soon!
Wednesday, 4/10
Beyond Wrestling, Uncharted Territory, Episode Two (8pm EST)
Already Announced: Aussie Open and former WWE Superstar Gangrel!
New Subscribers: Use promo code MANIAWEEK and you'll get your first 20-days for free!