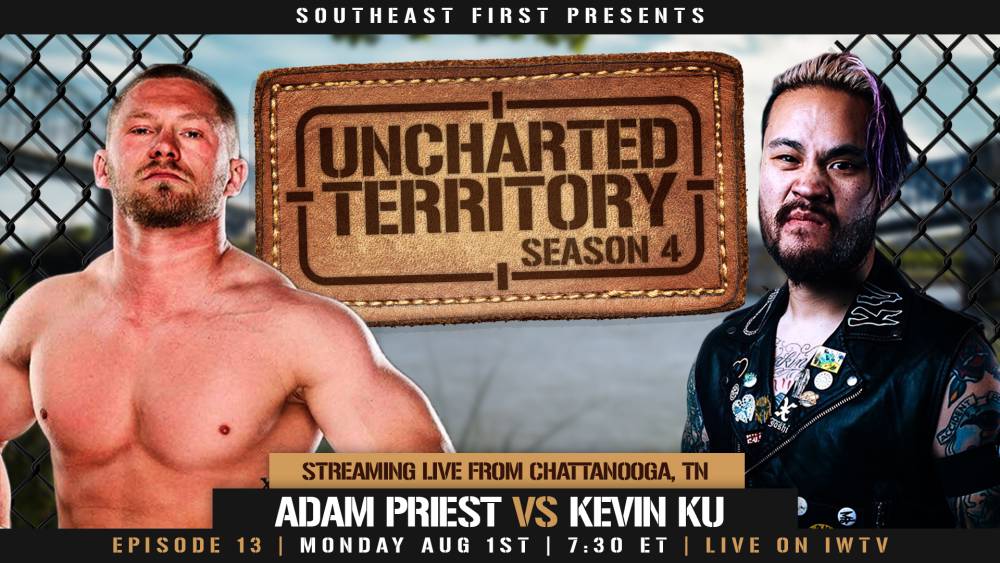 Uncharted Territory Season 4 Finale Streams Live Monday
Season 4 of Uncharted Territory concludes this Monday night (8/1) with a huge event streaming live on IWTV at a special 7:30pm EDT start time.
The final episode of the Southeast First season will see the undefeated "Any Style" Adam Priest vs the undefeated Kevin Ku in the shows main event.
Also announced for Monday night:
The unsettled score between Joe Black and Arik Royal will be resolved in a match that can only end via knockout or tapout.
SUP Bonestorm Champion Alec Price returns to Uncharted Territory and puts his title on the line against the monster Krule.
Marcus Mathers returns to Uncharted Territory to battle the Southeastern legend Tank.
A conflict that began on episode one, concludes on the finale as Merrik Donovan finally gets his hands on Suge D in a No Holds Barred match.
Only one man can walk out the victor as Rico Gonzalez, Ashton Starr and Rob Killjoy compete in an elimination three way dance.
The Last Laugh's Kenzie Paige and Billie Starkz finally meet in a one-on-one contest.
Noah Hossman looks to win the Discovery Gauntlet AND set the consecutive win streak in the DG when he goes one-on-one with one of H2O's top stars, Austin Luke.
Watch the season finale live and all previous episodes on demand with your IWTV subscription.