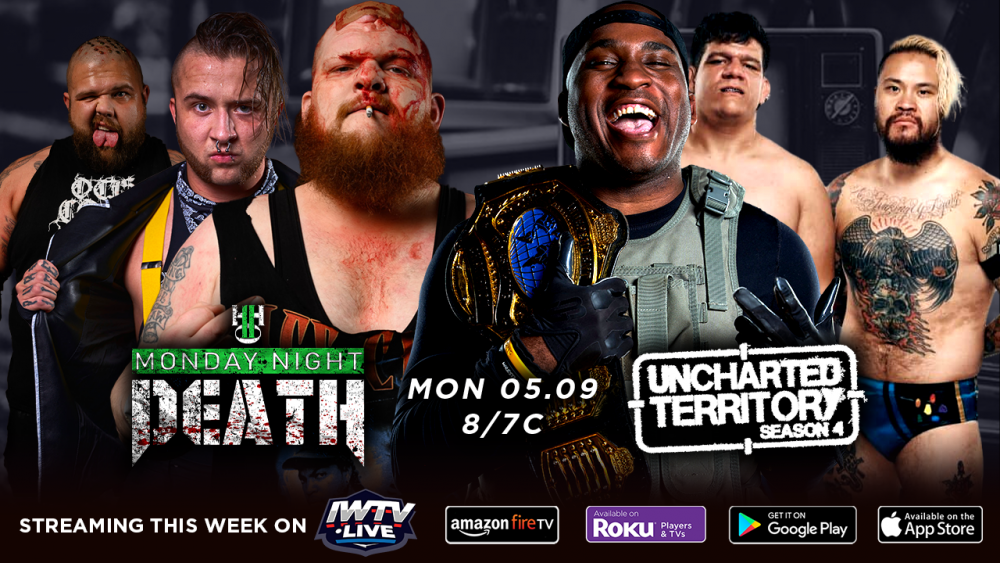 The Biggest Monday Night In IWTV History!
This Monday night (5/9) is the biggest Monday night in IWTV history with two huge events streaming live.
The Season Four premiere of the critically acclaimed weekly series, Uncharted Territory, and H2O's Monday NIght Death Volume 1, will both air at 8pm EDT.
This year Uncharted Territory takes place in Red Bank, Tennessee (Chattanooga). The debut episode of the Southeast First Season features three Championship matches, including a rubber match for the IWTV Independent Wrestling World Championship as AC Mack defends against PWI-sanctioned number 2 contender SLADE.
Also announced For Uncharted Territory:
SUP Bonestorm Championship: Alec Price (c) vs Ashton Starr
ACTION and SUP Tag Team Championship: Violence Is Forever (c) vs Culture Inc
Jaden Newman vs Alex Kane
Adam Priest vs Damyan Tangra
Kenzie Paige vs Shazza McKenzie
Discovery Gauntlet
H2O's Monday Night Death Volume 1 also streams live on May 9th, the first of several Monday night events taking place at H2O over the next few months.
The show will be headlined by a tag team death match pitting the brother tandem of Atticus and Otis Cogar against H2O founder Matt Tremont and GG EVerson.
Also scheduled for Monday Night Death Vol. 1:
H2O Tag Team Championship: The End Game (c) vs The Rep
H2O Championship: Deklan Grant (c) vs Anthraxx
Duncan Aleem vs Rocket vs Nick Grande vs Frank Bonetti
Drew Blood vs Jess Moss
Manders vs Ryan Redfield
Chris Bradley and Kristian Ross vs Marcus Mathers and Reid Walker
Death Match: Austin Luke vs Jimmy Lyon
Watch both events live with your IWTV subscription.