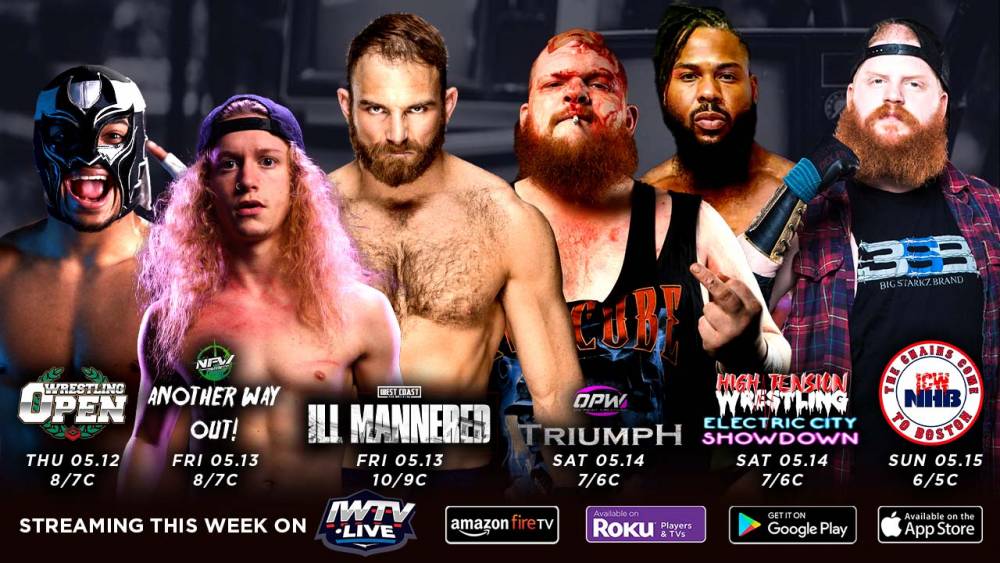 STREAMING LIVE THIS WEEK ON IWTV: West Coast Pro, ICW NHB and more!
Six events stream live on IWTV this week, featuring a huge West Coast Pro Wrestling card on Friday, ICW No Holds Barred's Boston debut on Sunday, plus shows from Wrestling Open, Northern Federation of Wrestling, On Point and High Tension.
This weekends slate of shows includes Timothy Thatcher and Biff Busick making their West Coast Pro debuts, an American Deathmatch Championship match pitting 44.OH! members against each other and more.
Thursday, 5/12, 8pm EDT - Wrestling Open Episode 19 streams LIVE on IWTV!
Ichiban vs Channing Thomas
Steve Stetson vs Ryan Clancy
Thomas Santell vs BRG
Friday, 5/13, 8pm EDT - Northern Federation Of Wrestling presents Another Way Out LIVE on IWTV!
Marko Stunt vs Yoya
Ellis Taylor vs Kidd Bandit
Mike Skyros vs The Whisper
Shane Taylor vs Big Vin
AKIRA vs Jordan Oliver
Karen BamBam vs Gabby Ortiz
Vlog Bros University (Jack Tomlinson and Dante Drago) vs The Wasted Youth (Dyln McKay and Reid Walker)
Friday, 5/13, 10pm EDT - West Coast Pro Wrestling's Ill Mannered streams LIVE on IWTV!
Timothy Thatcher vs Kevin Blackwood
Biff Busick vs Vinnie Massaro
Will Ospreay vs Titus Alexander
AJ Gray vs Robert Martyr
The Conglomerate vs Reno Scum and Karl Fredericks
Dutch and Bateman vs The West Coast Wrecking Crew
Levi Shapiro vs JD Drake
Billie Starkz vs Dark Sheik
Saturday, 5/14, 7pm EDT - On Point presents Triumph LIVE on IWTV!
OPW Championship: Kit Osbourne (c) vs Matt Tremont
Robert Martyr vs Davey Richards
Manders vs AKIRA
Marcus Mathers vs BLK Jeez
Axton Ray vs Jason Kincaid
Brandon Kirk vs Mike Law
Billy Tipton vs Azrieal
Saturday, 5/14, 7pm EDT - High Tension Wrestling presents Electric City Showdown LIVE on IWTV!
Miracle Generation vs The Mighty Militia
Robb Radke vs Ryan Mooney
Nunzio vs Saber Dorado
Adena Steele vs Angelina Love vs Riley Shepard vs Angel Orsini
Big Dan Champion vs Tommy Vecs
Killian McMurphy vs JTG
plus The Outfielders, Mr Crummels, Sonny Defarge, Riley Shepard, Stan Stylez and Ryan Mooney
Sunday, 5/15, 6pm EDT - ICW No Holds Barred Boston streams LIVE on IWTV!
American Deathmatch Championship, Taipei Death Match: Eric Ryan (c) vs Bobby Beverly
Kasey Kirk vs Brandon Kirk
Casanova Valentine vs Krule
AKIRA vs Tommy Vendetta
John Wayne Murdoch vs SHLAK
Satu Jinn vs Hoodfoot
Isaiah Broner vs Justin Kyle
Watch all six events live with your IWTV subscription.