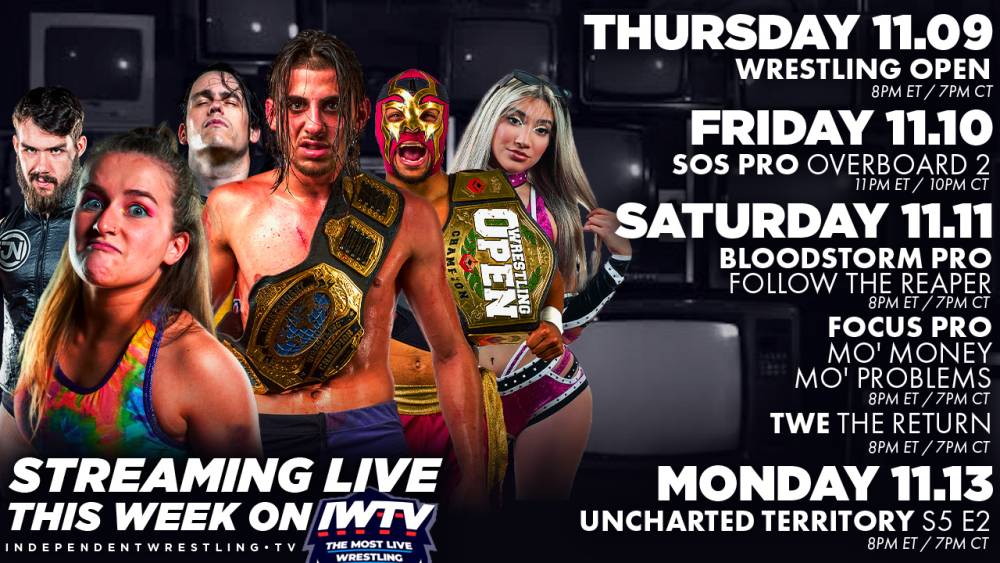 LIVE this Week on IWTV: Uncharted Territory, Wrestling Open, TWE & more!
Six events stream live on IWTV this week featuring shows from Wrestling Open, SOS Pro Wrestling, TWE, Bloodstorm Pro, Focus Pro & Uncharted Territory.
Thursday, 11/9, 8pm ET - Wrestling Open Ep 97:
TJ Crawford vs Dezmond Cole
Brad Baylor vs Kylon King
Gabriel Skye vs Tyree Taylor vs Bobby Orlando vs Joe Ocasio
Paris Van Dale vs Kennedi Copeland
Friday, 11/10, 11pm ET - SOS Pro Wrestling presents Overboard 2:
SOS Pro Wrestling Championship: Sebastian Wolfe vs Carl Randers
Island Rules Championship: The Butler vs Ghost Pirate Brian
SOS Tag Team Championshp: C.A.T. vs Flamin' Aces
Daniel Makabe vs Bambi Hall
Island Rumble
Saturday, 11/11, 8pm ET - TWE presents The Return
Jaden Newman vs Brandon Kirk
Kasey Owens vs Tank
Suge D vs Nathan Mowery
Manders vs Jayke Murphy
KOBK (Hardway Heeter, Brett Ison & Sean Campbell) vs Darian Bengston, Jamesen Shook & Pha'Nesse
Kody Manhorn vs Tim Bosby
Erron Wade vs Mackenzie Morgan
Saturday, 11/11, 8pm ET - Focus Pro presents Mo' Money Mo' Problems:
Seabass Finn vs Mike Graca
Mike Montero vs Tyree Taylor
Sammi Chaos vs Little Mean Kathleen
Marcus Mathers vs Brad Cashew
Elle Valentine vs Stan Stylez
Saturday, 11/11, 8pm ET - Bloodstorm Pro presents Follow The Reaper:
Deathcore Championship, Elimination Match: Remington Rhor vs Alex Stretch vs Bam Sullivan vs Raven Havok
Tri-State Tag Team Championship: The REP (c) vs Memory Museum
Tri-State Women's Championship: Zayda Steel vs Ivy Malibu
Two Out Of Three Falls: Austin Luke vs Aaron Williams
Gabriel Skye vs Rocket
Monday, 11/13, 8pm ET - Uncharted Territory Season Five, Episode Two:
IWTV Tag Team Championship: Miracle Generation (c) vs Marcus Mathers & Austin Luke
Deathmatch Discovery Gauntlet: Anthraxx vs ???
Ladders Legal Scramble: Bobby Orlando vs Frank Bonetti vs Jimmy Lloyd vs Duncan Aleem vs GG Everson vs Dyln McKay
Dominick Denaro vs Deklan Grant
Watch all six events live with your IWTV subscription.