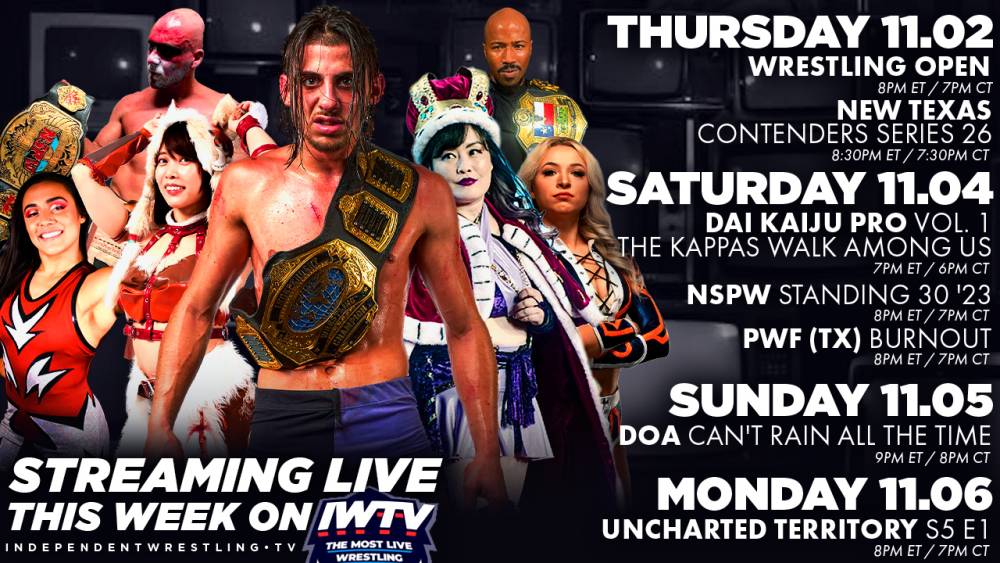 LIVE this week on IWTV - Uncharted Territory Season 5 premiere, Dai Kaiju Pro event & more!
Seven events stream live this week on IWTV featuring shows from Wrestling Open, Texas Contenders Series, Dai Kaiju Pro, NSPW, PWF, DOA and the Season Five premiere of Uncharted Territory.
Thursday, 11/2, 8pm ET - Wrestling Open Ep 96:
Swipe Right & Ray Jaz vs Miracle Generation & Pedro Dones
Zayda Steel vs Amira
Griffin McCoy & Ellis Taylor vs Alec Price & Ichiban
Bobby Orlando vs AJZ
Thursday, 11/2, 8:30pm ET - Texas Contenders Series 26:
Texas Contenders Series Championship: Jus X Nic (c) vs Matt Locke
KC Kr'eme vs Hoka
Brother Tracey vs Dustin Nguyen
Hellhound Walker vs Blair Vincent Jr
Danny King vs Isaac Morales
Jay Davis vs Kenny Kalypso
Saturday, 11/4, 7pm ET - Dai Kaiju Pro debuts with Vol. 1 The Kappas Walk Among Us:
Mane Event vs Kappa Kozo & Kappa Jr
O'Shay Edwards vs Krule
Rex Lawless vs Kappa Jungle
Teda Goodz vs Kappa Samurai
Brad Hollister vs Shivam
Shoko Nakajima vs VENY
Landon Hale vs Monomoth
TJ Crawford vs Massimo Pesca
Ichiban vs Mortar
Bobby Orlando vs Nolo Kitano
Saturday, 11/4, 8pm ET - NSPW presents Standing 30
Saturday, 11/4, 8pm ET - PWF (TX) presents Burnout:
PWF Championship: Chris Carter (c) vs Brian Kendrick
PWF Tag Team Championship, TLC Match: Legion (c) vs Jus X Vibin vs The Association
PWF Women's Championship: Raychell Rose vs Shay Karmichael
PWF Lonestar Championship: Edge Stone vs Brick Savage
Maniac vs Alpha J
Sunday, 11/5, 9pm ET - DOA presents Can't Rain All The Time:
Amira vs El Chupacabra
Kris Brady vs Zeb Saint One
Derrick Shaw vs Wade Hess
Duv & Dangerous & Brian! vs The Academy
Monday, 11/6, 8pm ET - Uncharted Territory Season Five, Episode One:
IWTV Independent Wrestling World Championship: Alec Price (c) vs Matt Makowski
H2O Championship: Austin Luke (c) vs Ryan Redfield
ACTION Championship: Adam Priest (c) vs Lucky 13
ETU Keys To The East Championship: Marcus Mathers vs ???
Deathmatch Discovery Gauntlet: Alex Stretch vs Anthraxx
Watch all seven events live with your IWTV subscription.