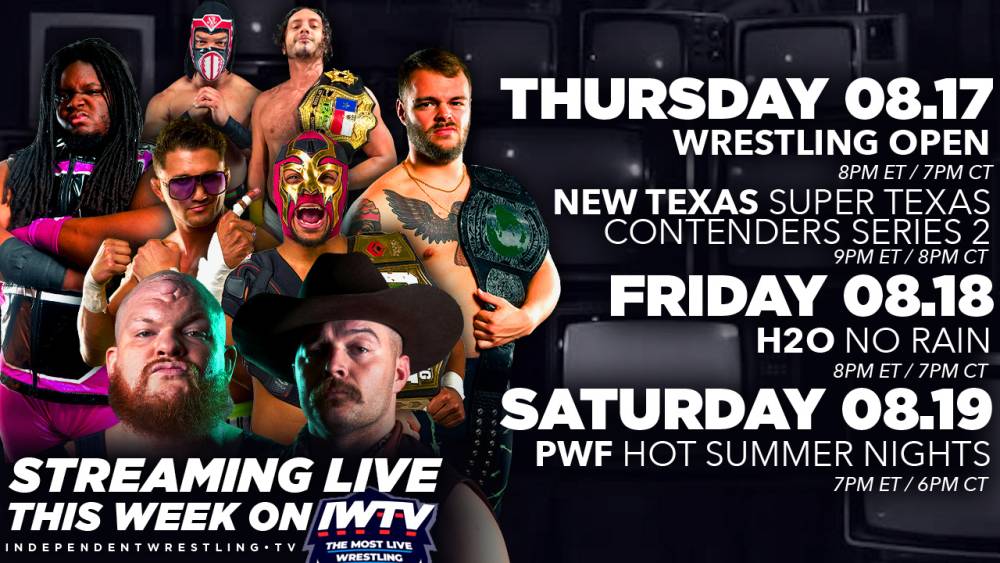 LIVE this Week on IWTV - H2O, Wrestling Open, PWF & more!
Five events stream live this week on IWTV featuring shows from Wrestling Open, Texas Contenders Series, Combat 1, H2O & PWF (NC).
Thursday, 8/17, 8pm EDT - Wrestling Open presents No Respect:
Wrestling Open Championship: Ichiban (c) vs Ray Jaz
Kylon King vs Ricky Smokes
Alec Price vs Danny Miles
No Respect Roulette: Channing Thomas & Bobby Orlando vs Bronson & Ryan Clancy
No Disqualification: Joe Ocasio vs Gal Barkay
LMK vs JC Storm
Thursday, 8/17, 9pm EDT - The Super Texas Contenders Series 2:
The 8th Day vs Fly Def
TCS Championship: Shawn Hendrix (c) vs Mysterious Q
Texas Tornado: The Dream Team vs JJ Blake & Dustin Nguyen
Lonestar Championship: Rudy Garza (c) vs Dexx Harm
Falls Count Anywhere: Danni Bee vs Charity King
Beau Amir vs Shimbashi
Turbo Rumble
Friday, 8/18, 7:15pm EDT - Combat 1 presents Crash & Burn:
Nate Bock vs Antonio Cristiano Zambrano
Miami Mike vs Reggie Collins
Ryan Clancy vs Tommy Vendetta
Sadiee Suicidee vs Krystal Moon
plus Jason Hotch, Alex Shelley & more!
Friday, 8/18, 8pm EDT - H2O presents No Rain:
Viking Wasteland: Manders vs Matt Tremont
Danny Havoc Hardcore Championship: Bam Sullivan (c) vs Mouse
Hybrid Championship: Kennedi Copeland (c) vs Cole Radrick
H2O Tag Team Championship: Sawyer Wreck & Ron Bass Jr (c) vs Aaron Rourke & B3CCA
Number One Contendership: Austin Luke vs GG Everson vs Ryan Redfield
Ziggy Haim vs Brandon Kirk
Jimmy Chondo Lyon vs Marcus Mathers
Deklan Grant vs Christian Napier
Rocket, Cecilo Vega, Duncan Aleem, Ryan Radix, Leroy Robinson, Alex Stretch & Lady Blakely vs Anthraxx, Brian Neil, Frank Bonetti, JB Anderson, Edward Hawkins, Braxx & Furete
Saturday, 8/19, 7pm EDT - PWF presents Hot Summer Nights:
PWF Championship, Steel Cage: Mason Myles (c) vs Bojack
Jaden Newman vs Ryan Galeone
PWF Tag Team Championship: The Longshots (c) vs The Dawsons
plus Colby Corino and more!
Watch all four events live with your IWTV subscription.