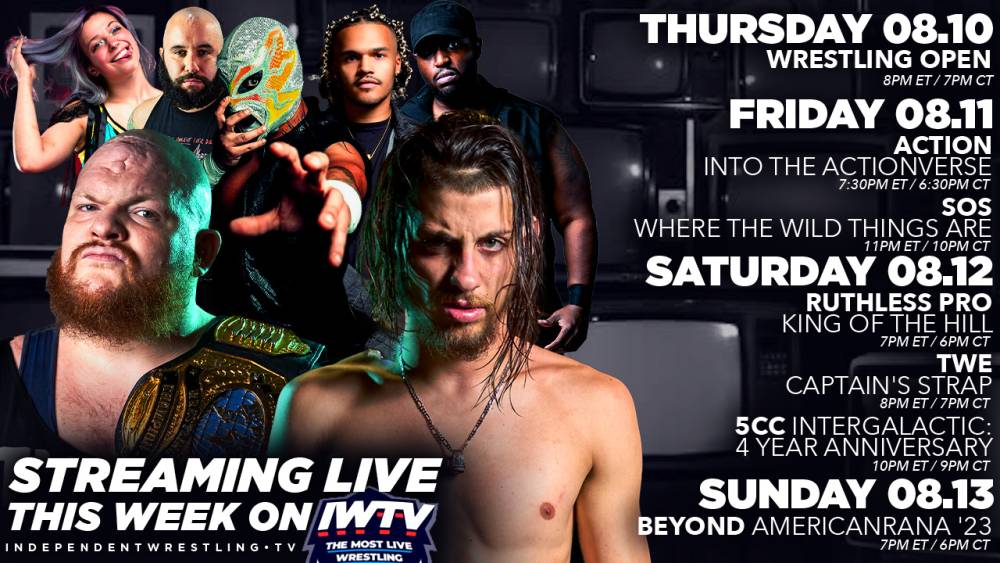 LIVE this Week on IWTV - Americanrana '23, ACTION & more!
Nine events stream live on IWTV this week featuring shows from Wrestling Open, ACTION, SOS Pro Wrestling, Ruthless Pro, TWE, NSPW, 5CC & Beyond Wrestling's Americanrana super show.
Thursday, 8/10, 8pm EDT - Wrestling Open Ep 84:
Bronson vs Ryan Clancy
Eliminator Cup First Round: Shook Crew vs MORTAR & Brian Milonas
Eliminator Cup First Round: Mane Event vs Alec Price & Ichiban
Ricky Smokes vs Landon Hale
Dezmond Cole vs JGeorge
Friday, 8/11, 7:30pm EDT - Into the ACTIONverse:
ACTION Wrestling Championship: Adam Priest (c) vs Billie Starkz
Ava Everett vs Devlyn Macabre
Squatting Dragons vs The Good Hand
Brogan Finlay vs Rico Gonzalez
Out Of This World vs Nawfside Heroes
Terry Yaki vs Bobby Flaco
Damyan Tangra vs Noah Hossman
Friday, 8/11, 11pm EDT - SOS Pro Wrestling presents Where The Wild Things Are:
SOS Pro Wrestling Championship: Ethan HD vs Carl Randers
SOS Tag Team Championship: C.A.T. vs The Academy
Island Rules Championship: Sonico vs Ghost Pirate Brian
Riea Von Slasher vs Amira
Darwin Finch vs Drake Kwon
Miles Deville vs Halcon Negro
Bambi Hall vs Kikyo
Trophy Hunters vs Banana Splits
Saturday, 8/12, 7pm EDT - Ruthless Pro presents King Of The Kill:
First Round: HoodFoot vs Judge Joe Dred
First Round: Joel Bateman vs SHLAK
First Round: Tommy Vendetta vs Remington Rhor
First Round: Dr. Redacted vs Crazy King
Schwartzy vs Herzog
Saturday, 8/12, 8pm EDT - TWE presents Captain's Strap:
Captain's Strap Match: Derek Neal vs Tank
Adam Priest vs Mackenzie Morgan
Tim Bosby vs Darian Bengston
Kody Manhorn vs Devlyn Macabre
Jayke Murphy & Damon Stryker vs Jamesen Shook & Pha'Nesse
Saturday, 8/12, 8pm EDT - NSPW presents Summer Heat 2023:
NSPW Championship: Kevin Blanchard vs Dylan Donovan vs Zak Patterson vs Marko Estrada
Travis Toxic vs Yann Pike
Stephen Sullivan vs Alex Silva vs Tom Leblond
South Shore Wrecking Krew vs TDT
Shawn Martel vs Leon Saver
Benjamin Tull vs Pee Wee
Saturday, 8/12, 10pm EDT - 5CC Wrestling presents Intergalactic
Sunday, 8/13, 7pm EDT - Beyond presents Americanrana '23:
IWTV Independent Wrestling World Championship: Matt Tremont (c) vs Alec Price
IWTV Independent Wrestling Tag Team Championship: Miracle Generation (c) vs B3CCA & Aaron Rourke
Krule vs Sawyer Wreck
Ichiban vs Ortiz
44OH (Atticus Cogar, Bobby Beverly & Eric Ryan) vs The Calling (Rickey Shane Page, Akira & Delirious)
Marcus Mathers vs Matt Makowski
Richard Holliday vs Brad Hollister
Dezmond Cole vs Dan Barry vs Ryan Clancy vs TJ Crawford
The wedding of Love, Doug & Little Mean Kathleen
Watch all seven events LIVE with your IWTV subscription.