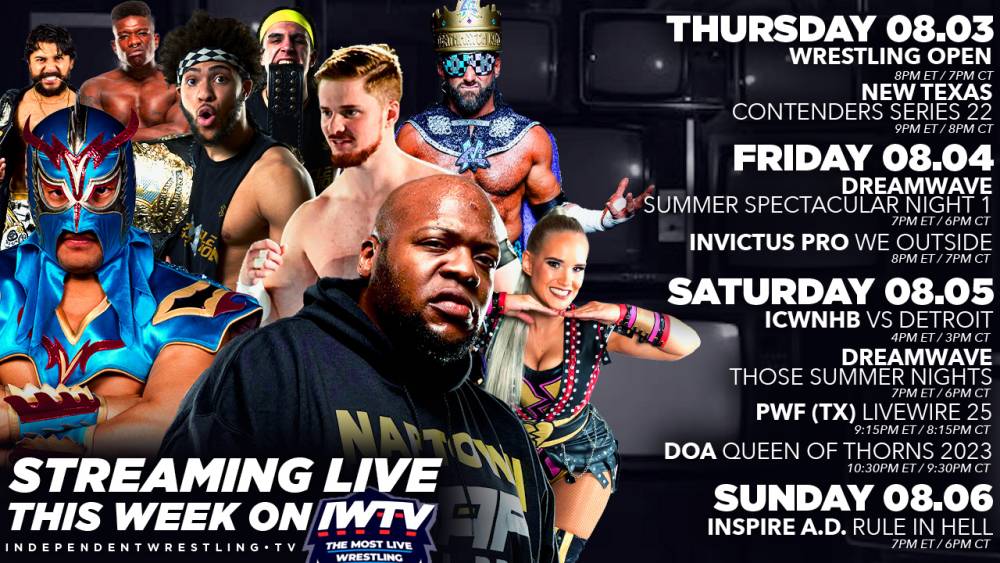 LIVE This Week On IWTV - Dreamwave Doubleheader, ICW No Holds Barred & more!
Eight events stream live on IWTV this week featuring shows from Wrestling Open, Texas Contenders Series, Dreamwave, ICW No Holds Barred, PWF (TX), DOA & Inspire Pro.
Thursday, 8/3, 8pm EDT - Wrestling Open Ep 83:
IWTV Independent Wrestling Tag Team Championship: Miracle Generation (c) vs YDNB
Max Caster vs Ryan Clancy
Landon Hale vs Brad Baylor
Waves & Curls vs Lucas Chase & Sammy Diaz
Tina San Antonio vs Kelly Madan
Thursday, 8/3, 9pm EDT - Texas Contenders Series 22:
Lonestar Championship: Rudy Garza (c) vs Izzy James
The Dream Team vs JJ Blake & Dustin Nguyen
The 8th Day vs King Bees
Isaac Morales vs Dan The Man
Holy Roger vs Jus X Nick
Jay Davis vs Stevie Hendrix
Friday, 8/4, 7pm EDT - Dreamwave presents Summer Spectacular:
Dreamwave Championship: Christian Rose (c) vs Matt Cardona
Dreamwave Alternative Championship: Gringo Loco (c) vs El Hijo Del Vikingo
Dreamwave Tag Team Championship: Wasted Youth (Marcus Mathers & Dyln McKay) vs Flamita & Aramis
Luigi Primo, Colt Cabana & Bobby Orlando vs Florida Man, WARHORSE & Dan The Dad
Zayda Steel vs B3CCA vs Shazza McKenzie vs Kaia McKenna vs Maki Itoh vs Brittnie Brooks
Bryan Keith vs Hartenbower
Seduce & Destroy vs The Hype
Mike Bennett vs Connor Hopkins
Vic Capri & Shelly Benson vs Those Damn Coyotes
Saturday, 8/5, 4pm EDT - ICW NHB vs Detroit:
American Deathmatch Championship: HoodFoot (c) vs Randi West
Danny Demanto vs DBA
Matt Tremont vs MM3
Tommy Vendetta vs Crazy King
Chuck Stein vs John Wayne Murdoch
Justin Kyle vs Isaiah Broner
Saturday, 8/5, 7pm EDT - Dreamwave presents Those Summer Nights:
Ultimo Dragon vs Matt Cross
Masha Slamovich vs Bryan
Dreamwave Tag Team Championship: Wasted Youth (c) vs The Hype
Saturday, 8/5, 9:15pm EDT - PWF (TX) presents Livewire 25:
Alpha J & Caine Carter vs Juss Vibin
Women's Championship: Raychell Rose (c) vs Alejandra Quintanilla
Lonestar Championship: Brick Savage (c) vs BD Brawley & Tommy Bolton
Dustin Nguyen vs Ryan Davidson
JJ Blake vs Low Rider
Jimmy vs Dinastia
Saturday, 8/5, 10:30pm EDT - DOA presents Queen Of Thorns Tournament 2023:
DOA Grand Championship: Rebel Kel (c) vs Shazza McKenzie
First Round: Murphy Madsen vs Nicole Matthews
First Round: Amira vs Bambi Hall
First Round: Abigail Warren vs Tara Zep
First Round: Liiza Hall vs Izzy McQueen
Sunday, 8/6, 7pm EDT - Inspire A.D. presents Rule In Hell:
Francesco Akira vs Bryan Keith
Gary Jay vs Yuya Uemura
Undefinable Championship: Will Allday (c) vs Matt Cross
Lil Evil & Danni Bee vs Killa Kate & Raychell Rose
Shimbashi vs Danny Orion
T-Ray Watford vs Brick Savage
Watch all nine events live with your IWTV subscription.