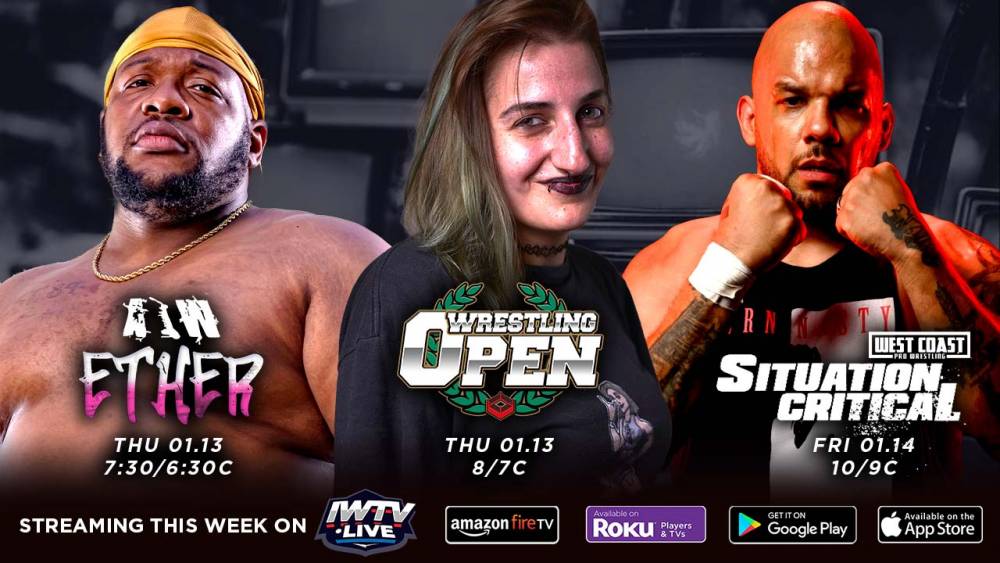 LIVE this week on IWTV - AIW, Wrestling Open, West Coast Pro
Three events stream live on IWTV this week including shows from Absolute Intense Wrestling, Wrestling Open and West Coast Pro Wrestling.
First on Thursday (1/13) at 7:30pm EST, AIW presents Ether featuring AEW's Max Caster vs Derek Dillinger plus:
Hoodfoot vs Kaplan
Megan Meyers vs Katie Arquette
Members Only vs Casey Carrington and Brian Carson
The Duke vs Levi Everett
The Von Engelands vs Bulking Season
Zach Nystrom vs Isaiah Broner
Big Twan Tucker vs Evan Amrbose
Uncle Chase Burnett vs Johnny Patch vs Riley Rose vs TKD
Also on Thursday night at 8pm EST, Wrestling Open streams live. Announced participants for this week include:
Alec Price
Kylon King
SLADE
Riley Shepard
Kennedi Copeland
Blaxstrom
CPA
Eric James
Ichiban
Channing Thomas
Love, Doug
Bryce Donovan
Then on Friday night (1/14) at 10pm EST, West Coast Pro Wrestling's Situation Critical features Homicide vs Jacob Fatu plus:
Nicole Savoy vs Masha Slamovich
Mike Bailey Aramis and Rey Horus
Davey Richards vs Kevin Blackwood
AJ Gray vs Juicy Finau
Bryan Keith vs Vinnie Massaro
El Cucuy, Adriel Noctis and D-Rogue vs Mr. Iguana, Viento and Midas Kreed
Titus Alexander vs Adrian Quest vs Kenny King vs TJP
Watch all three events live with your IWTV subscription.