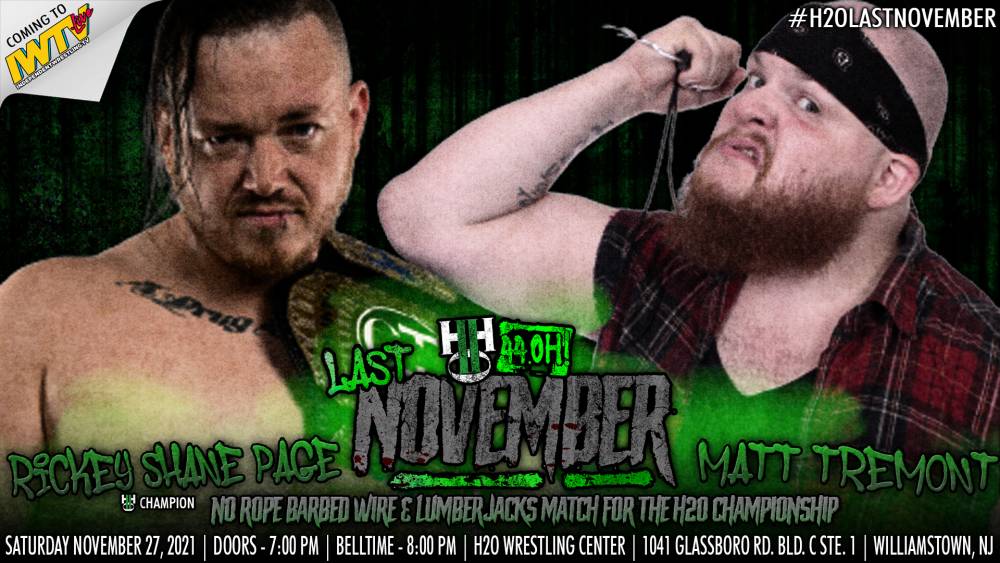 H2O presents huge Last November event this Saturday night
H2O's Last November streams live on IWTV this Saturday (11/27) night at 8pm EST.
The shows main event will see H2O Champion Rickey Shane Page defend the title against H2O founder Matt Tremont. RSP retired Tremont last year, but Tremont has returned and is looking to take his company back after a year of nearly total 44.OH! domination.
In addition to the highly anticipated H2O Championship match, three other titles will be on the line on Saturday night. The announced lineup is as follows:
Danny Havoc Hardcore Championship: Atticus Cogar (c) vs Lucky 13
Hybrid Championship: Kennedi Copeland (c) vs Charli Evans
H2O Tag Team Championship: Kristian Ross and Chris Bradley (c) vs Gregory Iron and Eddy Only
Anything Goes: Deklan Grant vs Chuck Payne vs G-Raver
Bobby Beverly vs Devon Moore
Marc Angel vs Chondo
The Extricated and White Trash Forever vs The Kirks, Adonis Valerio, GG Everson and Bam Sullivan
Alex Stretch and Drew Blood vs Mitch Vallen and Jeff Cannonball
Watch Last November live with your IWTV subscription.