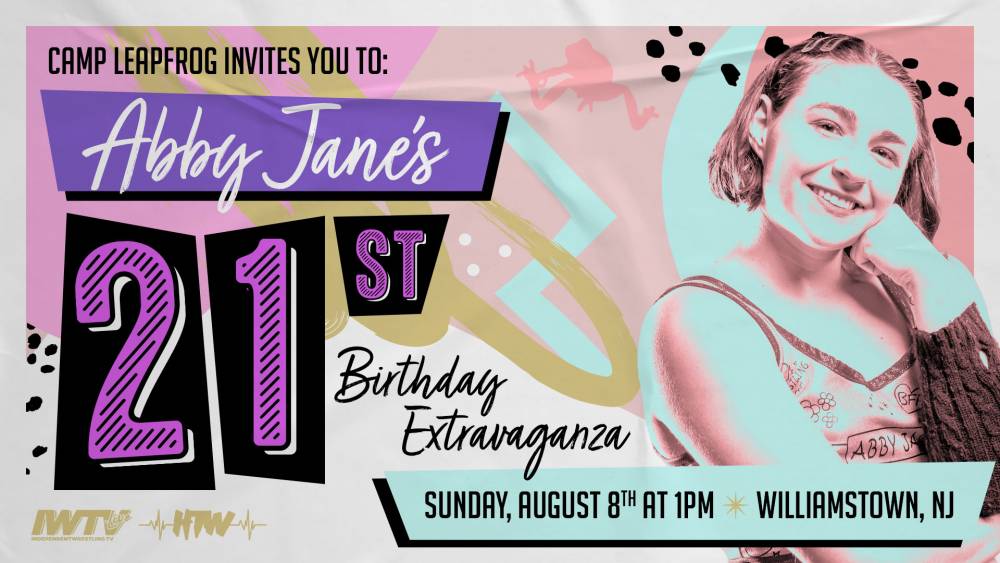 This Sunday: Camp Leapfrog partners with IWTV for double header
Camp Leapfrog presents Abby Jane's 21st Birthday Extravaganza this Sunday (8/8) at 1pm EDT live on IWTV.
The special event is the first half of a double header, with IWTV 100 streaming live later that evening at 5pm EDT. It is also the first Camp Leapfrog event to take place in front of a live audience. Front row seats are sold out, but tickets are still available to purchase.
The main event will see Abby Jane team with The Spectral Envoy (Hallowicked and UltraMantis Black) against Big Dan Champion, Travis Huckabee and Sidney Bakabella with Camp Leapfrog Champion, A Very Good Professional Wrestler, in their corner.
Also announced for Sunday's event:
Masha Slamovich vs. BLANK
Frogsport Rules: Matt Makowski vs. Thunderfrog
Campeonatos de Ranas: The Outfielders (Boomer Hatfield & Molly McCoy) © vs. YoKai (Yoya & Janai Kai)
Atomicos: The Colony (Green Ant & Thief Ant) & The Air Show (Razerwyng & Mach.10) vs. Merlok, Jet Jaghori & Campground Athletic Commission (Ethan Wilde & Johnny Moran) with Skiff
Campground Warfare: Darius Carter, Killian McMurphy, Jordan Blade & The Goons (Myles Millennium & Eel O'Neal) with Big Dust vs. BIG CALLUX, Boar, Violence, Ron Voyage & Blaxstrom with Phil Stamper
CrushCakes (Crusher & Pancakes) vs. Crummels & Defarge vs. Mane Event (Midas Black & Jay Lyon) vs. The Shinobi Shadow Squad (World Famous CB & Ryan Mooney)
Rey de Ranas: King Crab vs. Athrun Amada vs. The Whisper vs. Rex Lawless vs. Nolo Kitano vs. Kamen MK
Max ZERO calls out CC Boost
Camp Leapfrog is also in the middle of #FrogWeek, airing a best-of hosted by Brad Rush every day this week through Friday. Wednesday is the Best of Edith Surreal, which she guest hosts. #FrogWeek airs at 6PM on our Twitter, Facebook, and YouTube pages.
You can watch Camp Leapfrog and IWTV 100 live this Sunday with your IWTV subscription.