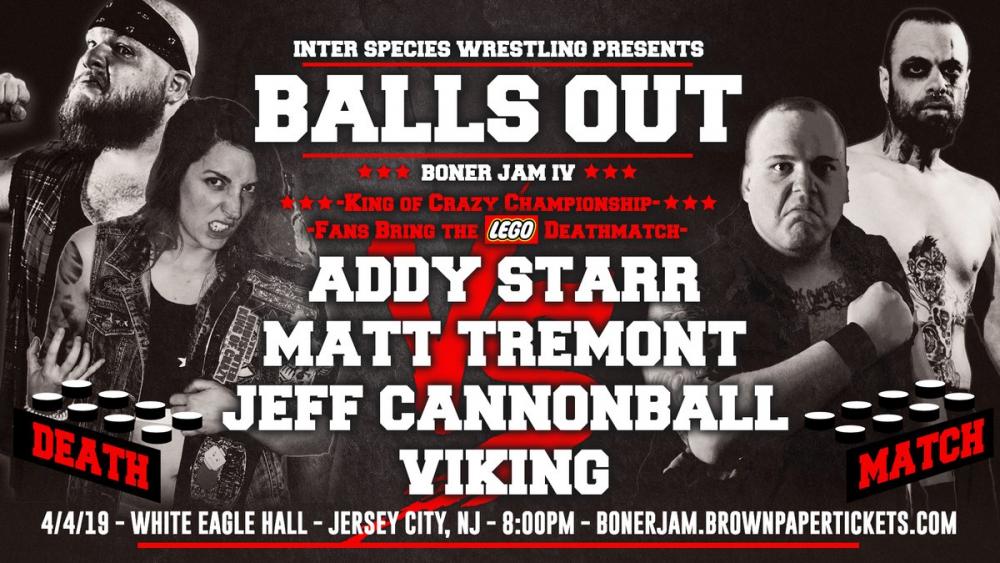 The Innovators Of Lego Violence Go Balls Out With Their Card For The Collective
Inter Species Wrestling presents their show Boner Jam IV: Balls Out on April 4 in Jersey City, New Jersey as part of The Collective. It's shaping up to be one of the most unique cards to hit the independent wrestling scene in recent memory..
Here is what has been announced for the event so far:
A King Of Crazy Championship match that will see Addy Starr put her title on the line against Viking, Jeff Cannonball and Matt Tremont in a Fans Bring The Legos Death Match. ISW are the innovators of the lego death match and the fans bring the weapons nature of this bout only adds to the intrigue.
In a Falls Count Everywhere Title match, Sexxxy Eddy defends the belt against Swoggle.
"Dirty Daddy" Chris Dickinson goes one-on-one with one of the top stars of the UK scene, Chris Brookes.
Tony Deppen, Jigsaw, Chili Kid and Werewolf of Wallstreet go at it in a 4-way match.
In a tag team match that pits cops against the lawless, Team Tremendous take on The Gym Nasty Boys.
The Bastian Snow International Food Fight Invitational which will feature over a dozen wrestlers, a bunch of food and currently has no rules.
Cult favorite and rising independent wrestling star Daniel Makabe will also have a match on the show though his opponent has yet to be announced.
Be sure to keep your eyes on this space for future announcements regarding this big event and make sure to follow Inter Species Wrestling on Twitter here. 
You can get your tickets to Boner Jam IV: Balls Out here and be sure to check out their IWTV VOD offerings here.