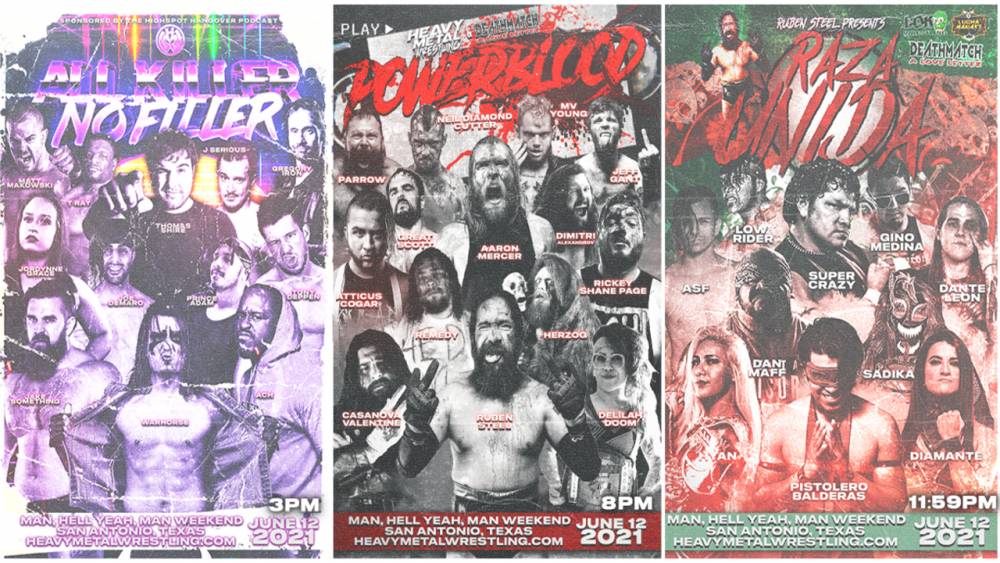 Saturday on IWTV: Heavy Metal Triple Header!
This Saturday (6/12) Heavy Metal Wrestling takes over IWTV with three huge events streaming live.
The action beings at 4pm EDT/3pm CDT with All Killer, No Filler:
WARHORSE vs Prince Adam
MV Young vs Great Scott
Jake Something vs Thomas Shire
Tony Deppen vs Joe Demaro
Aaron Mercer vs Matt Makowski
Gregory Iron vs Jesus DeLarosa
GPA vs Johnny Bedlam
Kody Lane vs Big Game Leroy vs Ethan Price vs Chocolate Papi
Zero1USA and Heavy Metal Tag Team Championship: The Premier vs Born Haters
Then at 9pm EDT/8pm CDT, things get ultraviolent as Heavy Metal presents Power Blood:
Atticus Cogar vs Aaron Mercer
Neil Diamond Cutter vs Ruben Steel
Parrow vs Dimitri Alexandrov
Rickey Shane Page vs Great Scott
MV Young vs Delilah Doom
Herzog vs Remedy
Casanova Valentine vs Jeff Gant
Finally at 1am EDT/Midnight CDT, Ruben Steel's Raza Unida closes the night:
Super Crazy vs Prince Adam
Low Rider vs Gino Medina
ASF vs Dante Leon
Diamante vs Hyan
Sadika vs Dan Maff
Pistolero Balderas vs Juventud Aerea
Borracho Style Scramble
You can watch all three events live with your IWTV subscription.