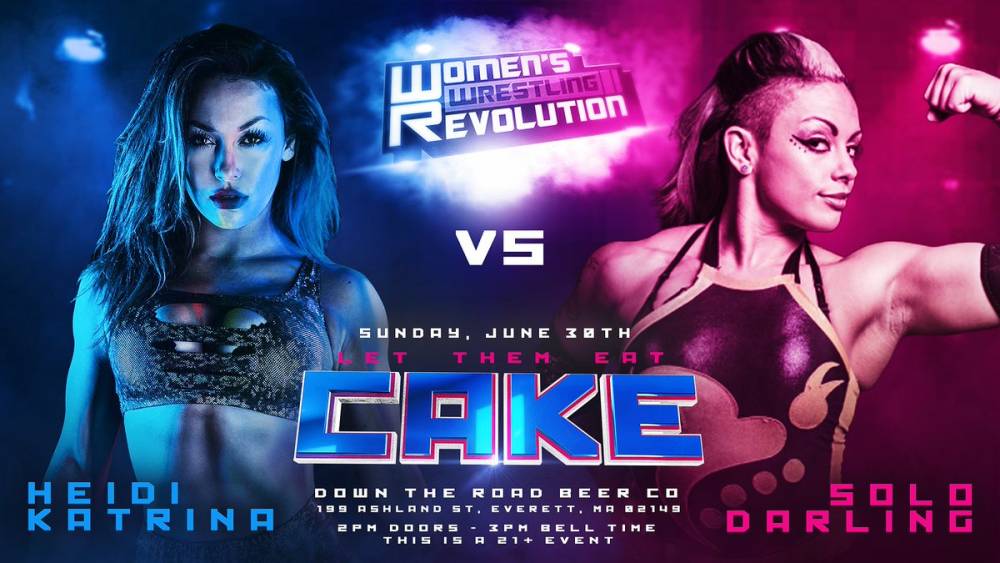 This Sunday: Womens Wrestling Revolution streams live on IWTV [Full Preview]
In February, Women's Wrestling Revolution's Widowmaker concluded with a heartfelt celebration of independent women wrestlers and a declaration by those women that a new era was upon us. Since that point WWR standout Kris Statlander has held the IWTV Independent Wrestling Championship, Solo Darling has emerged as one of the top wrestlers in all of independent wrestling and competitors like The Platinum Hunnies, Skylar and Davienne have become regular fixtures of Beyond Wrestling's Uncharted Territory.
This Sunday the revolutionaries of WWR return to action when Let Them Eat Cake streams live here on IWTV at 3pm EDT from Down The Road Brewery Taproom in Everett, Massachusetts. Let's take a look at what has been announced so far.
Solo Darling is in the midst of an incredible run that has seen her pick up victories over Davienne, Shazza McKenzie, JXT and others while putting on show stealing performances in the process. On Sunday she takes on Sendai Girls star Heidi Katrina who is making her WWR debut.
Also debuting at WWR on Sunday will be Masha Slamovich who will go one-on-one with the returning Kasey Catal.
Faye Jackson comes back to WWR to battle Vanity.
Former IWTV Champion Kris Statlander looks to get back to her winning ways as she competes against Alisha Edwards in a first time ever match up.
Plus...
"Hot Scoop" Skylar squares off against Karissa Rivera.
In a classic mismatch Terra Calaway takes on Leyla Hirsch.
Willow Nightingale will host the event, which will also feature The Platinum Hunnies, Davienne and more.
New Subscribers: Use promo code WWRPRO and your first 20-days are free thanks to Women's Wrestling Revolution!