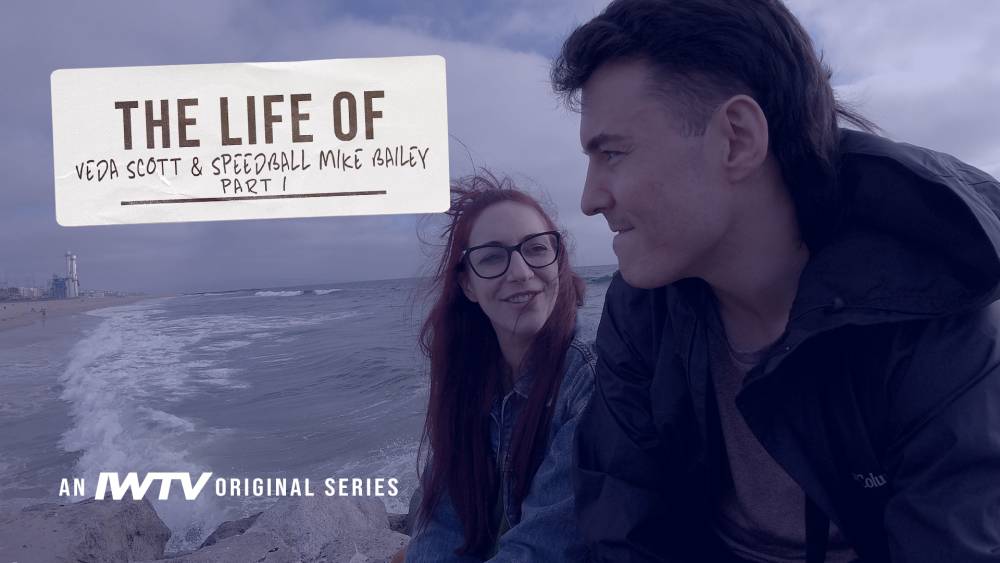 NOW ON DEMAND: The Life Of Mike Bailey and Veda Scott
The Life Of, IWTV's original docu-series, hits a new milestone this October when it releases The Life Of Veda Scott & "Speedball" Mike Bailey. Not only is it the first multi-part TLO since April's The Life Of Alex Shelley trilogy, but it marks the first official two-wrestler episode of the award winning series.
Wrestling couples have been featured before, most notably Terra Calaway in TLO Jeff Cannonball and AKIRA in TLO Masha Slamovich, but this will be the first episode to feature two separate people. To accommodate that, two Go Pros were issued instead of one.
Filming for the show took place leading up to and featuring the couple's wedding. Veda Scott, a veteran of the industry, saw it as a unique opportunity, as she was already a The Life Of fan. "I wanted to do TLO because I was already a fan of the show and I wanted to tell my story through that lens." Scott added that she enjoyed herself. "For us, the filming and documenting part of the experience was extra special because it included the lead up to the wedding and that whole trip."
"I wanted to do TLO to let people see a more personal side of us," Speedball Mike Bailey added. "Especially now that I'm in the United States and traveling to a lot of places for the first time."
The amount of footage filmed and the breadth of the experience was so vast, IWTV elected to split the episode into two parts, one debuting on VOD October 1st, the second coming November 1st.
"We wanted to go big with what we were doing," said TLO showrunner John Philapavage. "When I met with Veda and Mike sat we talked about all the opportunities this provided us. The wedding was always the centerpiece of that, but there was so much more we could do coordinating two subjects. Each person having a camera meant we could capture what it was like to be a couple in the industry, the separation, the travel, the joint trips — the difficulties of that. If they were separated, that meant two things are going on in two parts of the country, and that meant we needed two cameras. It was a nightmare to keep track of chronologically after the fact, but it made the episodes so much better. Thank God for digital time stamps."
You can watch the The Life Of Mike Bailey and Veda Scott part one on demand now.