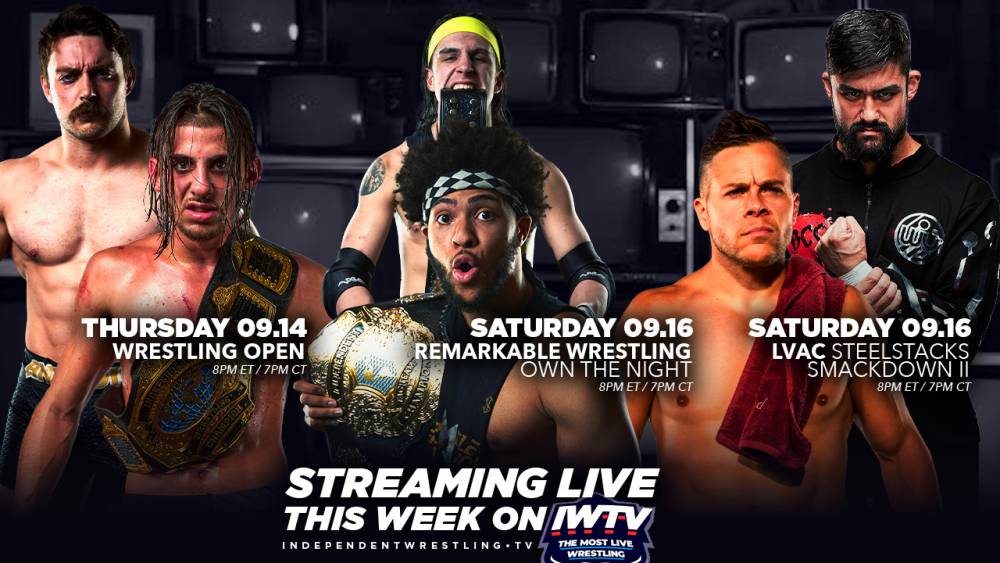 LIVE this Week on IWTV - Wrestling Open, LVAC & Remarkable Wrestling
Three events stream live this week on IWTV featuring shows from Wrestling Open, Remarkable Wrestling & LVAC.
Thursday, 9/14, 8pm ET - Wrestling Open Ep 89:
IWTV Independent Wrestling World Championship: Alec Price (c) vs Alex Coughlin
Eliminator Cup Semi Final: Waves & Curls vs Big Business
Ichiban vs Ted Goodz
Ultra Violette vs Rebecca Scott
Gabby Forza vs Tina San Antonio
Percy Ryan & Dante Drago vs Ryan Clancy & Dezmond Cole
Saturday, 9/16, 8pm ET - Remarkable Wrestling presents Owen The Night:
Remarkable Championship: Dezmond Cole (c) vs Kevin Blackwood
ETU Key To The East Championship: Marcus Mathers (c) vs Percy Ryan
Alex Shelley vs Tristen Thai
Matt Tremont vs Gabriel Skye
Chris Sabin vs Cono Cappuccia
Remarkable Tag Team & IWTV Tag Team Championship: Miracle Generation (c) vs Ken Broadway & Michael Fain
Saturday, 9/16, 8pm ET - LVAC presents Steelstacks Smackdown II:
Bakabella's Army (Avery Good, B3CCA, Channing Thomas & Jakob Hammermeir vs Ultramantis' Mob: (Big Dan, Edith Surreal, Cheeseburger & ???)
Max The Impaler vs Delmi Exo
Mike Bailey vs LSG
Xyberhawx & Mantequila vs The Lost Boys
Afa Jr, Rex Lawless & Havoc vs Ultimo Ant & The Batiri
Harleen Lopez vs Veda Scott vs Abby Jane
Watch all three shows live with your IWTV subscription.