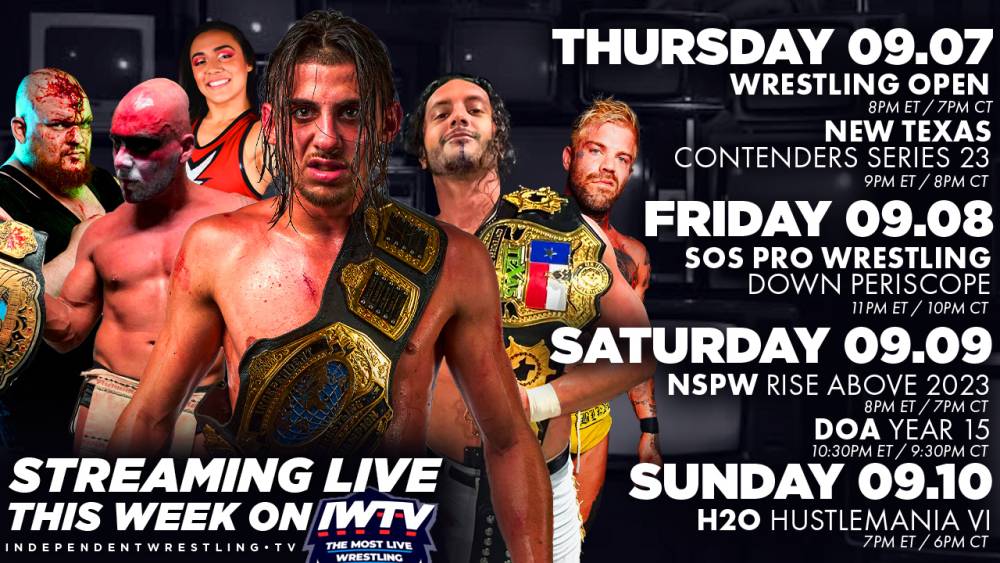 LIVE this week on IWTV - H2O Hustlemania, DOA Anniversary show & more!
Six shows stream live this week on IWTV featuring shows from Wrestling Open, Texas Contenders Series, SOS Pro Wrestling, NSPW, DOA & H2O.
Thursday, 9/7, 8pm EDT - Wrestling Open Ep 88:
IWTV Independent Wrestling World Championship: Alec Price (c) vs Steven Stetson
Marcus Mathers vs Griffin McCoy
Brad Baylor vs Dustin Waller
Eliminator Cup Quarter Final: Waves & Curls vs Stetson Ranch
MORTAR & Brian Milonas vs Shook Crew
Zayda Steel vs Kennedi Copeland
Thursday, 9/7, 9pm EDT - Texas Contenders Series 23:
TCS Championship: Shawn Hendrix vs Jay Davis vs Isaac Morales
Unsanctioned Match: Dream Team vs JJ Blake & Dustin Nguyen
Kenny Kalypso vs Jus X Nick
Chris Carter vs Pac Ortega
Hellhound Walker vs Blair Vincent Jr
Brother Tracey vs T.Y. Shane
Friday, 9/8, 11pm EDT - SOS Pro Wrestling presents Down Periscope:
SOS Pro Wrestling Tag Team Championship: The Academy (c) vs C.A.T.
Dante Smythe vs Island Boy 3
Amira vs "Big Five" Flynn
C4 vs Flamin' Aces
KC Rasslehoff vs Camp Counselor Coleman
Troimatic vs Ethan HD
Saturday, 9/9, 8pm EDT - NSPW presents Rise Above 2023:
NSPW Championship: Kevin Blanchard (c) vs Travis Toxic
NSPW Tag Team Championship: Untouchables (c) vs L'Union
South Shore Wrecking Krew vs VIB
James Stone vs Alex Silva
Standing 30 Qualifier: Loue O'Farrell vs Michel Plante vs Golden Greg vs Cecyl Nyx
Standing 30 Qualifier: Zak Patterson vs DGenerate vs London Lightning vs Benjamin Tull
Saturday, 9/9, 10:30pm EDT - DOA presents Year 15:
Drexl vs Abigail Warren
Kevin Blackwood vs Drake Kwon
DOA Grand Championship: Nick Radford (c) vs Vinny Pacifico
Amira vs Brian!
JAIDEN vs HBQ
Flamin' Aces vs The Dregs
Hammer Bros right team for the job Gauntlet
Konami Code vs Def Threat
Rush Freeman vs Joey Thorton vs Marcus Eriks vs Murphy Madsen vs Max Burnside vs Thicc Ric Rodriguez
Sunday, 9/10, 7pm EDT - H2O presents HustleMania VI:
H2O Championship: Austin Luke (c) vs Matt Makowski
Ziggy Haim vs Matt Tremont
Danny Havoc Hardcore Championship: Bam Sullivan (c) vs Jimmy Chondo Lyon
H2OG Death Match: Jeff Cannonball vs Neil Diamond Cutter
Hybrid Championship: Kennedi Copeland (c) vs Jess Moss
H2O Tag Team Championship: KAOS CTRL (c) vs Frank Bonetti & Adonis Valerio
Noah Hossman & The Squatting Dragons vs GG Everson, Deklan Grant & Mouse
Watch all six shows live with your IWTV subscription.