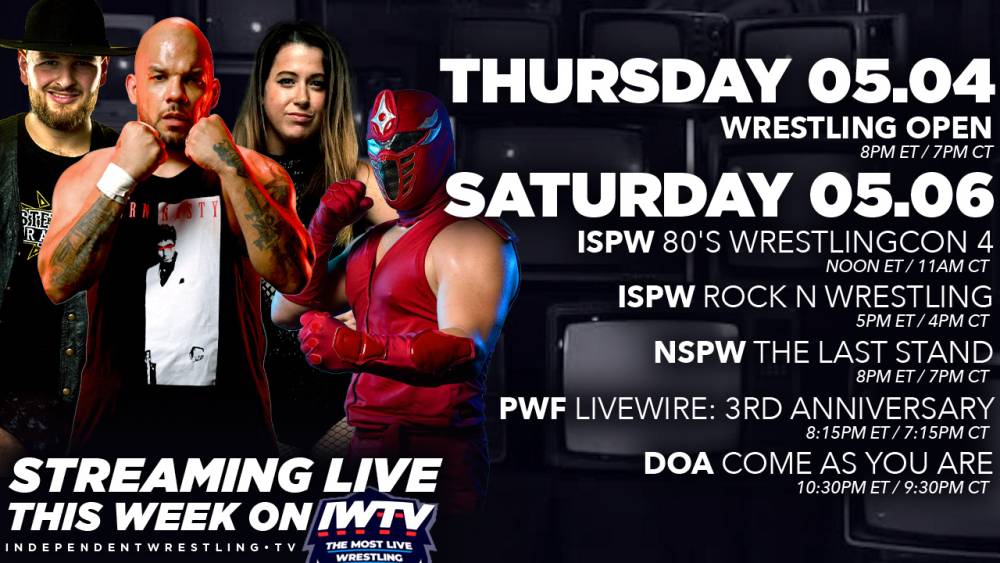 LIVE this Week on IWTV - Wrestling Open, DOA & more!
This weekend IWTV streams live events from Wrestling Open, ISPW, NSPW, PWF (TX) & DOA.
Thursday, May 4, 8pm EDT - Wrestling Open Ep 70:
Marcus Mathers vs Brad Hollister
Aaron Rourke vs Ryan Clancy
Bobby Orlando vs Ryan Mooney
Pedro Dones vs Kylon King
Rex Lawless vs Mortar
Tiara James Zayda Steel
Saturday, May 6, 12pm & 5pm EDT - ISPW presents 80s Wrestlecon 4 & Rock N Wrestling:
Bull James vs Rick Recon
Dirty Dango vs Eugene
Homicide vs GKM
Crowbar vs British Bulldog Jr
Tina San Antonio vs Gabby Ortiz vs Vicious Vicki vs Adena Steele vs Notorious Mimi vs ???
Snitsky vs Afa Jr
Saturday, May 6, 8pm EDT - NSPW presents The Last Stand:
Leon Saver vs Axel Wave
Azaelle vs Ray Lyn
Tom Leblond vs Travis Toxic
Matt Angels vs DGenerate
Martin Girard vs Marko Estrada
L'Union & Zak Patterson vs Loue O'Farrell, Kevin Blanchard & Michel Plante
Saturday, May 6, 8:15pm EDT - PWF (TX) presents Livewire: 3rd Anniversary:
PWF Championship: Exodus Prime vs Chris Carter
AWOL vs Ninja Mack
WrestleRave Championship: Aaron Mercer vs Stephen Wolf
Ascension Championship: JJ Blake vs Justin Tyler
PWF Tag Team Championship: Legion vs The 8th Day
T-Ray vs The Maniac
Kenny Kalypso & Jus X Nic vs Disarray (Alpha Jay & Caine Carter)
Saturday, May 6, 10:30pm EDT - DOA presents Come As You Are:
DOA Pure Championship: Drake Kwon (c) vs Sonico
Nick Radford vs Artemis Spencer
Nicole Matthews vs Amira
Rebel Kel & C4 vs The Academy
Caden Cassidy vs JSin Sullivan
Joey Thorton vs Adriel Noctis vs Danny Frey vs Sandra Moone vs Max Burnside vs Derrick Shaw
Flamin Aces vs The Golden Guys
Wrong Side Of The 90s vs The Co-Op
Bash Bros & Konami Code vs Hammer Brothers & Hess Clain
Watch all six events live with your IWTV subscription.