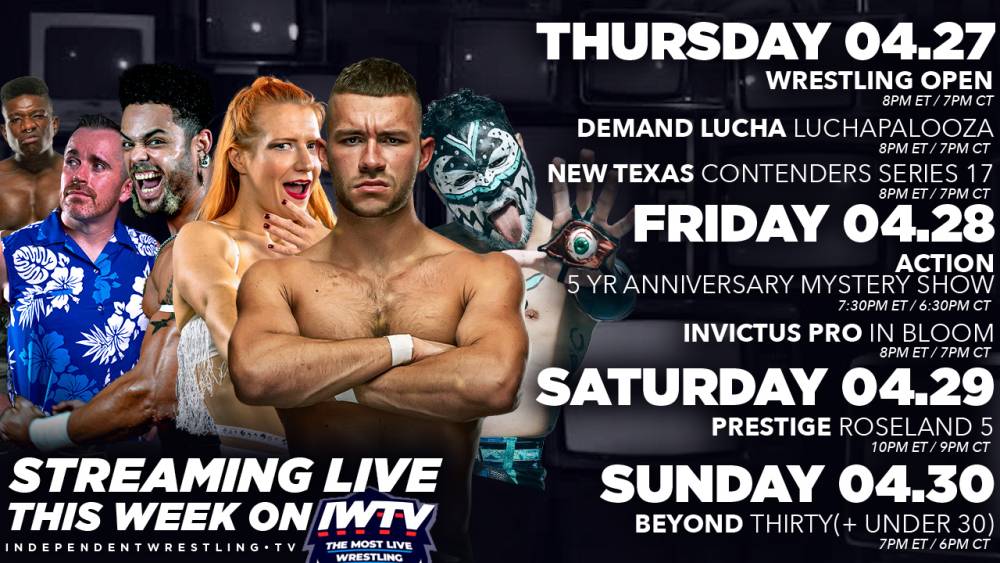 LIVE This Week On IWTV - Prestige, Beyond, ACTION & more!
Seven shows stream live this week on IWTV including events from Wrestling Open, Texas Contenders Series, Demand Lucha, ACTION, Prestige & Beyond Wrestling.
Thursday, April 27, 8pm EDT - Wrestling Open Ep 69:
Dan Barry vs Alec Price
Tyree Taylor vs Dezmond Cole
B3CCA vs Rebecca Scott
Derek Neal vs Love, Doug
Thursday, April 27, 8pm EDT - Demand Lucha presents Luchapalooza:
Gringo Loco vs Arez
Los Medicos vs The Mane Event
plus Jordan Oliver, Gangrel & more!
Thursday, April 27, 8pm EDT - Texas Contenders Series 17:
I Quit Match: Jus X Nick vs El Valdivia
Donnie Primetime vs Dustin Nguyen
JJ Blake vs Father O'Day
Kenny Kalypso vs Justin Walker Jr
Stunt Marshall vs isaac Morales
Danny Orion vs Shawn Hendrix
Culture Shock vs Property Of Self
Rodney Rockchild & Big Dave vs The Dream Team
Chris Carter vs Gravity
Friday, April 28, 7:30pm EDT - ACTION's 5 Year Anniversary Mystery Show
Friday, April 28, 8pm EDT - Invictus Pro presents In Bloom:
Invictus Social Media Championship (Ben Bishop (c) vs PJ Savage
Invictus Grand Slam Championship: Ken Broadway (c) vs Nicholi White
Invictus Women's Championship: Clara Carreras (c) vs ???
Invictus Tag Team Championship: Fight Or Die (c) vs Hired Gun Inc
Climb For Clout Ladder Match: J Boujii vs Gabriel Skye vs Killian McMurphy vs Jarrett Diaz vs Jack Tomlinson vs Mantequilla vs Brandon Watts
Darius Carter vs Edith Surreal
The Outfielders vs Victorium
Abby Jane vs Ruthless LaLa vs Gabby Ortiz
Saturday, April 29, 10pm EDT - Prestige presents Roseland 5:
Kevin Blackwood vs Penta El Zero M
Daniel Garcia vs Robert Martyr
EFFY vs Drexl
Bryan Keith vs Sonico
Prestige Tag Team Championship: C4 vs Midnight Heat
Kris Brady, Ethan HD & Jaiden vs Travis Williams & State Of Emergency
Shawn Spears vs Tom Lawlor
Judas Icarus vs Nick Wayne
Liiza Hall vs Trish Adora vs Miyu Yamashita
Sunday, April 30, 7pm EDT - Beyond presents Thirty LIVE on IWTV!
The Miracle Ones (Ichiban, Dustin Waller & Kylon King) vs Stetson Ranch (Steven Stetson, Brett Ryan Gosselin & Alec Price)
Shook Crew (Bryce Donovan & Bobby Orlando) vs Milk Chocolate (Randy Summers & Brandon Watts)
B3CCA & Aaron Rourke vs Janai Kai & Yoya
Brad Hollister vs Alex Coughlin
Megan Bayne vs Shannon LeVangie
Willow Nightingale vs Anastasia Morningstar
Ray Jaz vs Channing Thomas
LMK vs Notorious Mimi
Watch all seven events with your IWTV subscription.