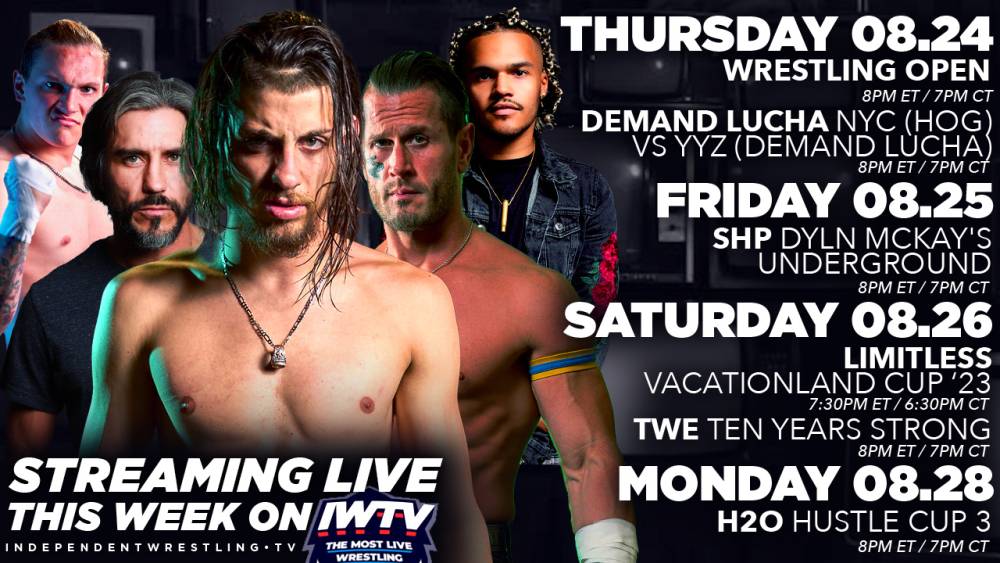 LIVE this Week on IWTV - Limitless' Vacationland Cup, TWE 10 Year Anniversary, SHP & more!
Six events stream live this week on IWTV featuring shows from Demand Lucha, Wrestling Open, SHP, TWE, Limitless & H2O
Thursday, 8/24, 8pm EDT - Wrestling Open Episode 86:
Alec Price vs Steven Stetson
Eliminator Cup Quarter Final: Shook Crew vs Miracle Generation
Rache Chanel vs Notorious Mimi
Bronson vs Ryan Clancy
Andy Brown vs Pedro Dones
Thursday, 8/24, 8pm EDT - NYC (HOG) vs YYZ (Demand Lucha):
Alex Shelley vs Aramis
Charles Mason vs Black Taurus
Ken Broadway vs Sam Adonis
plus Francesco Akira, Jody Threat, Space Monkey & more!
Friday, 8/25, 8pm EDT - SHP presents Dyln McKay's Underground:
Brian Kendrick vs Dyln McKay
Jordan Oliver vs Lucky 13
Jimmy Lloyd vs Ryan Radix
Rina Yamashita vs Colby Corino
Sean Henderson vs Paul London
Gabriel Skye vs The CHAD
Wasted Youth vs The Ugly Sucklings
Fresh Air vs Bang & Matthews
Saturday, 8/26, 7:30pm EDT - Limitless presents Vacationland Cup 2023:
Limitless World Championship: BEEF (c) vs Rip Byson
VLC First Round: Alec Price vs Kevin Blackwood
VLC First Round: JT Dunn vs Dezmond Cole
VLC First Round: Ichiban vs Channing Thomas
VLC First Round: Aaron Rourke vs B3CCA
Damaris Dawkins vs Ultra Violette
Saturday, 8/26, 8pm EDT - TWE presents Ten Years Strong:
WARGAMES: The Coven Of The Goat vs The Deadwood Boys
TWE Championship Match: Darian Bengston (c) vs Adam Priest
Last Fight: Josh Locke vs Kasey Owens
Pha'Nesse vs Damon Stryker
Jamesen Shook vs Jayke Murphy
Kody Manhorn vs Owen Knight
Monday, 8/28, 8pm EDT - H2O presents Hustle Cup 3:
First Round: Frank Bonetti vs Anthraxx vs Ryan Radix vs Cecilio Vega
First Round: GG Everson vs Leroy Robinson vs Deklan Grant vs President Hawkins
First Round: Dyln McKay vs Rocket vs TJ Reno vs Zak Ravik
First Round: Duncan Aleem vs Brian Neil vs Chad Spectacular vs Marcus Mathers
H2O Championship: Austin Luke (c) vs Gabriel Skye
Watch all six events live with your IWTV subscription.