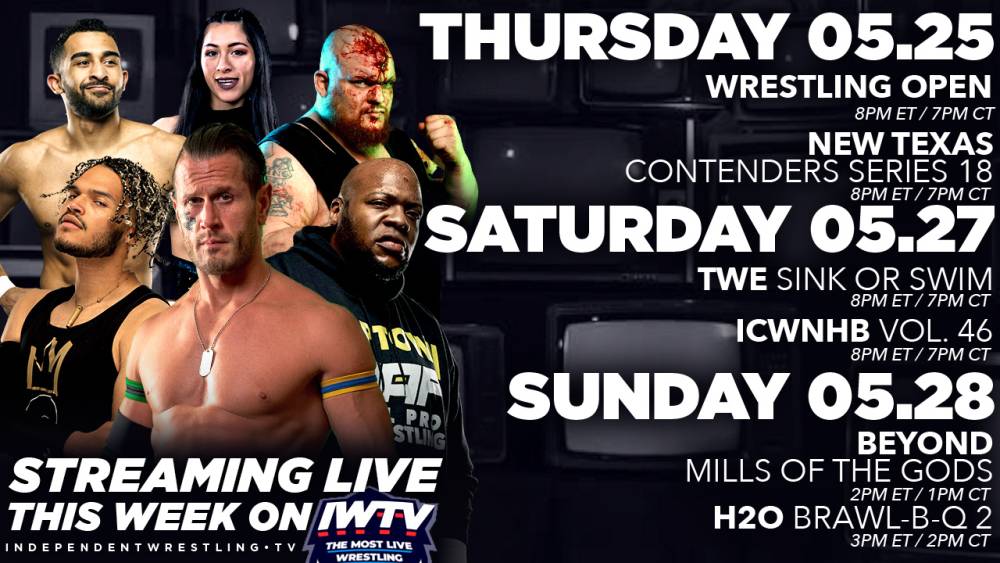 LIVE This Week On IWTV - ICW No Holds Barred, H2O & more!
Six events stream live this week on IWTV featuring shows from Wrestling Open, the Texas Contenders Series, ICW No Holds Barred, TWE, Beyond & H2O.
Thursday, 5/25, 8pm EDT - Wrestling Open Ep 73:
Delmi Exo vs Tiara James
Fancy Snipers vs VBU
Channing Thomas, Brad Hollister & Brick City Boyz vs Ichiban, Dan Barry & Miracle Generation
Tyree Taylor vs 50 Cal
Gabriel Skye vs Andy Brown
Thursday, 5/25, 8pm EDT - Texas Contenders Series 18
Stephen Wolf vs Dustin Nguyen
Holy Roger vs Isaac Morales
The 8th Day vs Storm Chasers
Charity King vs La Ninja
Zane Valero vs Izaiah Zane
Da Russell Twins vs Culture Shock
Maximus Stone PI vs El Valdivia
The Dream Team vs Ronin Reyes & Blair Vincent Jr
Shimbashi vs Edmond Thorton Chen
Saturday, 5/27, 8pm EDT - ICW No Holds Barred Vol. 46
American Deathmatch Championship: HoodFoot (c) vs Reed Bentley
Terracotta Taipei & Bundles Deathmatch: Danny Demanto vs Eric Ryan
The Bev vs Matt Tremont
Otis Cogar vs Satu Jinn
Jeff Cannonball vs Randi West
Deklan Grant vs AKIRA
Saturday, 5/27, 8pm EDT - Sink Or Swim 2023:
TWE Championship: Suge D vs Adam Priest vs Darian Bengston vs Lobo Okami
Texas Tornado: The Coven Of The Goat (CJ Lawler & Nathan Mowery) vs The Deadwood Boys (Noah Hossman & Carson Dilbeck)
TWE Tag Team Championship: KOBK (c) (Seam Campbell & Hardway Heeter) vs BDSM (Big Dave & Positive Lee)
Kasey Owens vs Jason Kincaid
Jaden Newman vs Erron Wade
Jayke Murphy vs Jamesen Shook
Sunday, 5/28, 2pm EDT - Beyond Wrestling presents Mills Of The Gods:
IWTV Tag Team Championship: Miracle Generation (c) vs Waves & Curls vs The Mane Event vs The Brick City Boyz
Alec Price vs Alex Coughlin
Alex Shelley vs Dan Barry
AKIRA & Masha Slamovich vs Anastasia Morningstar & Tyree Taylor
B3CCA vs Megan Bayne
Dango vs Brad Hollister
Ichiban vs Nolo Kitano
Tristen Thai vs Ryan Clancy
Dezmond Cole vs MORTAR
Love Doug vs Teddy Goodz
Sunday, 5/28, 4pm EDT - H2O presents BRAWLBQ 2:
H2O Tag Team Championship: Red Dead Redemption (Ryan Redfield & Manders) vs Wasted Youth (Marcus Mathers & Dyln Mckay)
Matt Tremont & Ziggy Haim vs Deklan Grant & Jess Moss
H2O Hybrid Championship: Kennedi Copeland (c) vs Edith Surreal
Hardcore: Jimmy Chono Lyon vs Lowlife Louie Ramos
Austin Luke vs Mouse
Edwards Hawkins, Leroy Robinson & Frank Bonetti vs Alex Stretch, Anthraxx & Lady Blakely
GG Everson vs Rocket vs Cecilio Vega vs Duncan Aleem vs Brian Neil
JB Anderson & Steven Fuerte vs Johnny Radex & Chad Spectacular
Watch all six events live with your IWTV subscription.