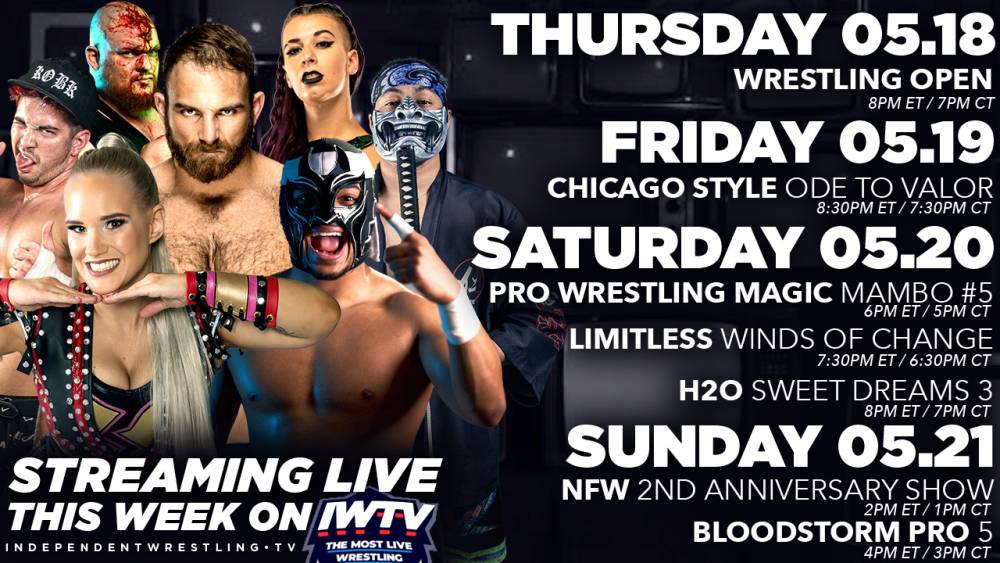 Live This Week On IWTV - H2O, Limitless & more!
Seven events stream live on IWTV this week featuring shows from Wrestling Open, Chicago Style Wrestling, Pro Wrestling Magic, Limitless, H2O, NFW and Bloodstorm Pro.
Thursday, May 18, 8pm EDT - Wrestling Open Episode 72:
Wrestling Open Championship: Ichiban (c) vs Dan Barry
Marcus Mathers vs Gabriel Skye
B3CCA vs Shannon Levangie
Delmi Exo vs Megan Bayne
Zayda Steel vs Kaia McKenna
Rebecca Scott vs Tiara James
Brad Hollister & Brick City Boyz vs 50 Cal, CPA & Johnny Rivera
Stetson Ranch vs Shook Crew
Friday, May 19, 8:30pm EDT - Chicago Style Wrestling presents Ode To Valor:
CSW Championship, Tables, Ladders & Chairs: Axel Rico (c) vs Conan Lycan
CSW Women's Championship: Sierra (c) vs Shazza McKenzie
Hammerstone vs Vic Capri
CSW Tag Team Championship: Big Mood (c) vs Team S.E.X.Y.
CSW Metra Division Championship: Steve Boz (c) vs Iniestra
Mario vs Shelly Benson vs Eric Schultz vs JJ Garrett vs Doom
Joey Avalon vs Hades XIX vs Marshe Rockett
Saturday, May 20, 6pm EDT - Pro Wrestling Magic presents Mambo #5:
Dark Arts Championship: Donovan (c) vs Smiley
Tri-Wizard Championship: Project Mayhem (c) vs RTB
Tag Team Championship: Death Row (c) vs Andy Brown & Ryan Mooney
Steve Pena & Alex Reiman vs Dan Maff & Kerr
Journey Burke vs Vicious Vicki
Trey Felipe vs Nolo Kitano
Saturday, May 20, 7:30pm EDT - Limitless presents Winds Of Change:
Limitless Championship: BEEF (c) vs Timothy Thatcher
wXw Women's Championship: Ava Everett (c) vs Killer Kelly
MSP vs Above The Rest
Vacationland Cup Qualifier: Dezmond Cole vs Channing Thomas
Vacationland Cup Qualifier: BRG vs Ichiban vs Vaughn Vertigo vs Brian Milonas
ARTE (Ricky Smokes & Aaron Rourke) vs Tabarnak De Team (Mathieu St. Jacques & Thomas DuBois)
Saturday, May 20, 8pm EDT - H2O presents Sweet Dreams 3:
H2O Championship, Cage Match: Manders (c) vs Sawyer Wreck
Danny Havoc Hardcore Championship: Brandon Kirk (c) vs Bam Sullivan
Caribbean Barbwire: Matt Tremont vs Deklan Grant
Rocket vs Lucky 13
No Disqualification: Austin Luke vs Ryan Redfield
Mouse vs Anthraxx
Jay Marston vs GG Everson
Street Fight: Leroy Robinson vs Neil Diamond Cutter
Sunday, May 21, 2pm EDT - NFW's 2nd Anniversary Show:
NFW Championship: AKIRA (c) vs Brett Ryan Gosselin
Myung-jae Lee vs TJ Crawford
Matt Vertigo vs Kasey Kirk
NFW Tag Team Championship: Vlog Bro University vs CMD
Griffin McCoy vs Ryan Clancy
Ellis Taylor vs Brandon Kirk
Sunday, May 21, 4pm EDT - Bloodstorm Pro 5: The End Complete:
Fans Bring The Weapons: The Carver vs Matt Tremont
Glass Hell Death Match: Remington Rhor and Alex Stretch vs Satu Jinn and John Wayne Murdoch
Lucky 13 vs Gabriel Skye vs Austin Luke
Hardcore Rules: Bam Sullivan vs Lord Crewe
Tri-State Tag Team Championship: The Rep vs Codename Nemesis
Dead Silence (Gory & The Whisper) vs Smiley & Elijah Eden
JB Anderson vs Mike Skyros
Watch all seven events live with your IWTV subscription.