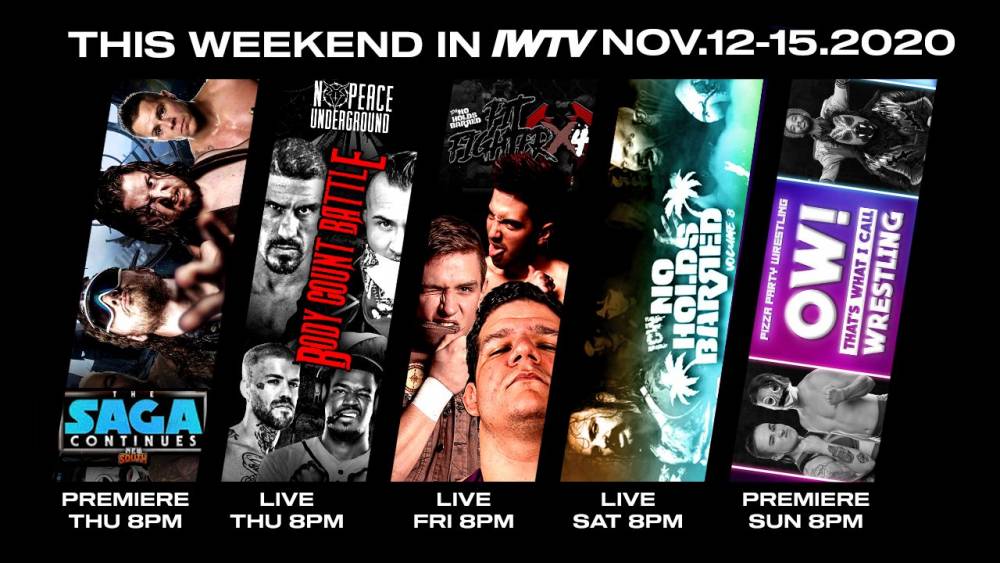 PREVIEW: 3 death match shows in 3 days starting tonight!
Starting tonight, IWTV heads to Florida to stream three big death match events in three days.
First up is the IWTV debut of No Peace Underground at 8pm EST tonight (11/12) as they present their Body Count Count Battle event:
NPU Championship: Kit Osbourne vs Eric Ryan
SGC Civil Disorder 1: Manders vs AJ Gray
Snoop Strikes vs Jordan Oliver
Atticus Cogar vs EC3
Body Count Battle featuring Casnova Valentine, Otis Cogar, Lindsey Snow, Matthew Justice, Dominic Garrini, Eddy Only, Akira, Reed Bentley, John Wayne Murdoch, Allie Kat, Jimmy Lloyd, Alex Ocean, Orin Veidt, Sawyer Wreck and Neil Diamond Cutter
At 8pm EST tomorrow night (11/13) ICW Pitfight X4 takes center stage, featuring seven fights inside the pit:
John Wayne Murdoch vs Alex Ocean
AKIRA vs Nolan Edward
Dominic Garrini vs Eddy Only
Justin Kyle vs Bruce Santee
Neil Diamond Cutter vs SHLAK
Jimmy Lloyd vs Eric Ryan
Atticus Cogar vs Reed Bentley
Then on Saturday night (11/14) at 8pm EST ICW No Holds Barred Volume 8 streams live featuring a 60-minute Iron Man Death Match between Orin Veidt and John Wayne Mudoch plus:
Meng vs SHLAK
AKIRA vs Alex Ocean
Dominic Garrini vs Eric Ryan
Neil Diamond Cutter vs Atticus Cogar
G-Raver vs Eddy Only
Jimmy Lloyd vs Reed Bentley
In addition to the live events, New South's The Saga Continues will premiere tonight (11/12) at 8pm EST:
New South Championship, Strap Match: Donnie Janela (c) vs Derek Neal
Cabana Man Dan vs A Very Good Professional Wrestler
Jaden Newman vs Boomer Hatfield
Travis Huckabee vs Brandon Williams
New South Tag Team Championship: 2 Fly Ty and Dy-Lan vs Kenzie Paige and Dillon McQueen
Talladega Knights (Tyler Franks and Hunter Drake) vs Adam Priest and Steven Michaels
The Mongrel vs Devantes
Finally, Pizza Party Wrestling's OW! That's What I Call Wrestling premieres Sunday night (11/15) at 9pm EST:
Boomer Hatfield and Molly McCoy vs The Mane Event
Slade vs Big Game Leroy
Brad Rush vs Van Valley
Kidd Magic vs Oreo Speedwagon
Matt Makowski vs Kennedi Copeland
You can watch all these events and much, much more with your IWTV subscription.