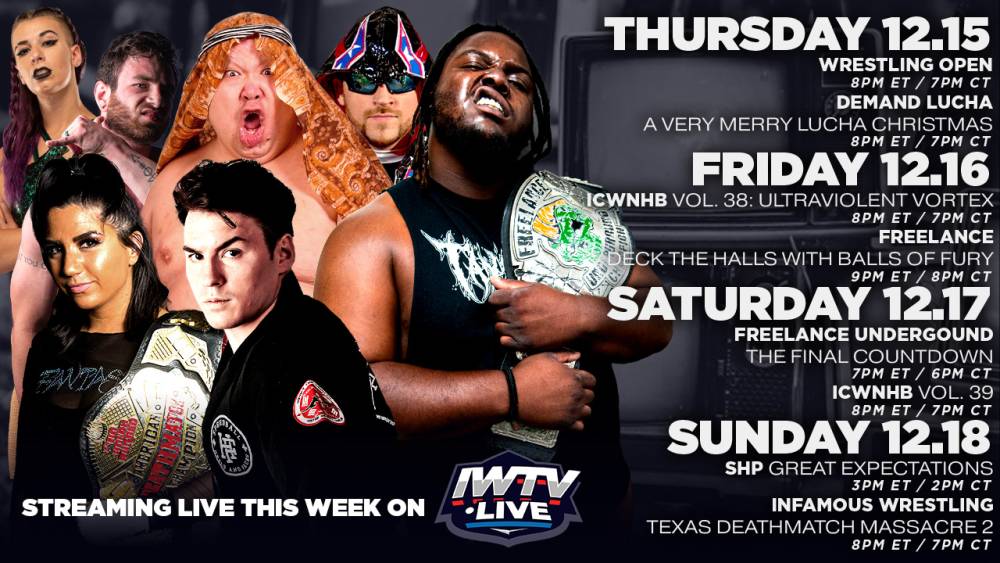 This Week On IWTV: ICW No Holds Barred, Wrestling Open & more!
Eight events stream live on IWTV this week featuring shows from Wrestling Open, Demand Lucha, ICW No Holds Barred, Freelance Wrestling, Freelance Underground, SHP and Infamous Wrestling.
Thursday, 12/15, 8pm EST - Wrestling Open Episode 50
Pedro Dones and The Mane Event vs The Miracle Ones
Ted Goodz and Little Mean Kathleen vs Love Doug and Notorious Mimi
Brad Hollister vs Bobby Orlando
Marcus Mathers vs TJ Crawford
Thursday, 12/15, 8pm EST - A Very Merry Lucha Christmas
Gringo Loco vs Delirious
Super Crazy vs Beast King FTM
Jody Threat vs Ray Lyn
Sam Adonis vs Ark Angel
Los Medicos vs Hotstepper and Junior Benito
Friday, 12/16, 8pm EST - ICW No Holds Barred Vol. 38: Ultraviolent Vortex
Friday, 12/16, 9pm EST - Freelance presents Deck The Halls With Balls Of Fury
Freelance Legacy Championship: Bryan Keith (c) vs Mike Bailey
Freelance World Championship: Robert Anthony (c) vs Mysterious Q
Fans Bring The Weapons: Trevor Outlaw vs Matt Knicks
GPA vs Luigi Primo
Project MONIX vs August Matthews
Chico Suave vs Angel Escalera vs Storm Grayson vs Ezio Orlandi vs Sean Galway vs Sorta Incredible Iverson
Sky's The Limit and Guerrera De Brisenas vs Kayla Kassidy and Pick N Pop
Saturday, 12/17, 7pm EST - Freelance Underground presents The Final Countdown
FU Championship: Calvin Tankman (c) vs Project MONIX
Bryan Keith vs Mojo McQueen
FU Independent Championship: Storm Grayson (c) vs Ruff Crossing
FU Tag Team Championship: Pick N Pop (c) vs Ezio Orlandi and Ethan Price
Kayla Kassidy vs Alice Crowley vs Laynie Luck
Bang Bros vs Koko Lane and GPA
Gunner Brave vs Sean Logan
Saturday, 12/17, 8pm EST - ICW No Holds Barred Vol. 39
American Deathmatch World Championship: Kasey Catal (c) vs Brandon Kirk
Abdullah Kobayashi vs Hoodfoot
Eric Ryan vs John Wayne Murdoch
Orin Veidt vs Dr Redacted
Jimmy Lloyd vs Danny Demanto
Tommy Vendetta vs Matt Tremont
AKIRA vs The Bev
Sunday, 12/18, 3pm EST - SHP presents Great Expectations
I Quit Match: Colby Corino vs Matt Tremont
Dog Collar Match: Jimmy Lloyd vs Atticus Cogar
Mike Bailey vs Conor Claxton
Manders vs Reid Walker
Marcus Mathers vs Dyln McKay
Lucky 13 vs Casey Carrington
Ryan Radix vs Adonis Valerio
Sunday, 12/8, 8pm EST - INFAMOUS Wrestling presents Texas Deathmatch Massacre 2
Knockout Or Tapout Death Match: Aaron Mercer vs MERC
Shitstorm Death Match: Jeff Gant vs Neil Diamond Cutter
Fans Bring The Weapons, Staple Gun Lumberjack Death Match: Great Scott vs Dimitri Alexandrov
Caribbean Spider Web Death Match: Sawyer Wreck vs Sky De Lacrimosa
Watch all eight shows live with your IWTV subscription.