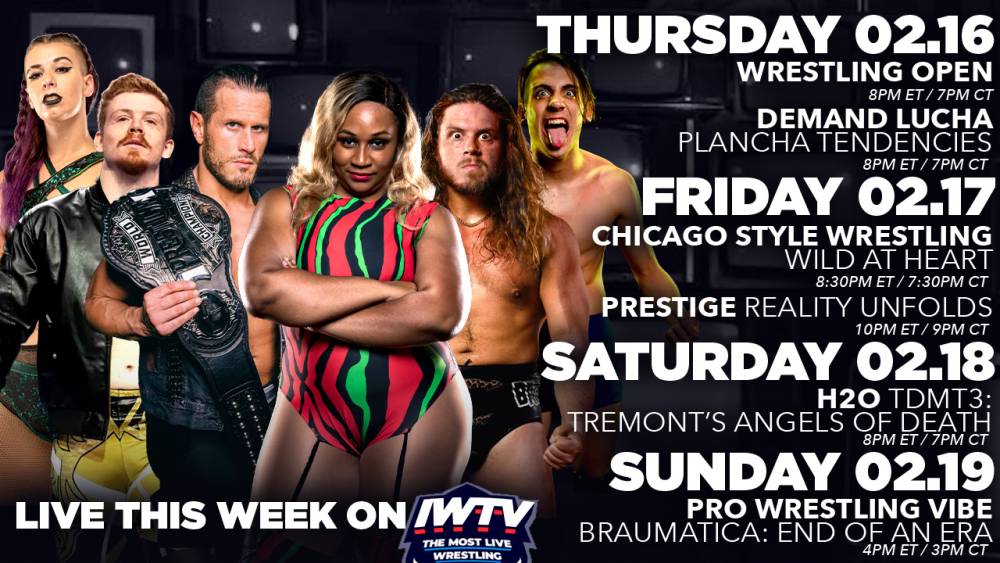 This week on IWTV: H2O, Prestige, VIBE, Demand Lucha & more!
Six events stream live on IWTV this week, featuring major shows from Wrestling Open, Demand Lucha, Chicago Style Wrestling, Prestige, H2O and Pro Wrestling VIBE.
Thursday, 2/16, 7:45pm EST - Wrestling Open EP 59:
Eliminator Cup: Miracle Generation (c) vs Fancy Snipers
Stetson Ranch (Danny Miles, Alec Price and Brett Ryan Gosselin) vs Rex Lawless, Rip Byson and Perry Von Vicious
CPA vs Brad Hollister
Paris Van Dale vs Notorious Mimi
Thursday, 2/16, 8pm EST - Demand Lucha presents Plancha Tendencies:
Joey Janela vs Gringo Loco
Space Monkey vs Marcus Mathers
Manders vs Aero Boy
Sam Adonis vs Jack Evans
Jimmy Lloyd vs Jody Threat
plus Los Medicos and more!
Friday, 2/17, 8:30pm EST - Chicago Style Wrestling presents Wild At Heart:
Black Christian vs Marshe Rockett
Kamille Brickhouse vs Shelly Benson
CSW Championship: Axel Rico (c) vs TJ Steel
JJ Garrett vs Vic Capri
Adam Stallion vs CJE
Cypher vs Doom Montgomery
Tag Gauntlet: Big Mood, Alpha Zeta Zeta, Mario Pardua and Eric Schultz, S.E.X.Y. and Marco and Mulligan
CSW Metro Division Championship: Steve Boz (c) vs Joey Mayberry vs Cody James vs Chris Miller vs Greg Murray
Friday, 2/17, 10pm EST - Prestige presents Reality Unfolds:
Prestige Championship: Alex Shelley (c) vs Sonico
No Canvas, No Rope, Barbed Wire, Death Match: Drexl vs AKIRA
JAIDEN vs Alan Angels
Adam Brooks vs KZY
Masha Slamovich vs Liiza Hall
State Of Emergency vs C4
Sandra Moone vs Brooke Havok vs Amira
Ethan HD vs Travis Williams
Saturday, 2/18, 8pm EST - H2O presents Tremont's Angels Of Death Match Tournament:
First Round, Bulldozer's Barbed Wire Brutality: Sawyer Wreck vs Ziggy Haim
First Round, Doors Of Death: Kennedi Copeland vs Jess Moss
First Round, Material Girl Death Match: Terra Calaway vs Mickie Knuckles vs Lady Blakely
Fans Bring The Weapons: B3CCA vs Matt Tremont
Edith Surreal vs Austin Luke
Death Match: Deklan Grant vs Lowlife Louie
Tournament Final: 3-Way, No Rope Barbed Wire, Gates Of Glass, Death Match
Sunday, 2/19, 4pm EST - Pro Wrestling VIBE presents Braumatica: End Of An Era:
Faye Jackson vs Darius Carter (Special Referee: Billy Dixon)
Chocolate City Championship: Andino (c) vs Brooke Valentine
Rain On Me Rules Match: Ashton Starr vs Allie Katch
Team Killian (Killian McMurphy, Robb Radke and Saul Esparza) vs Team Edith (Edith Surreal, Trish Adora and ???)
Eel O'Neal vs Jordan Blade
MV Young vs O'Shay Edwards vs Olijah Friday
Watch all six events live with your IWTV subscription.