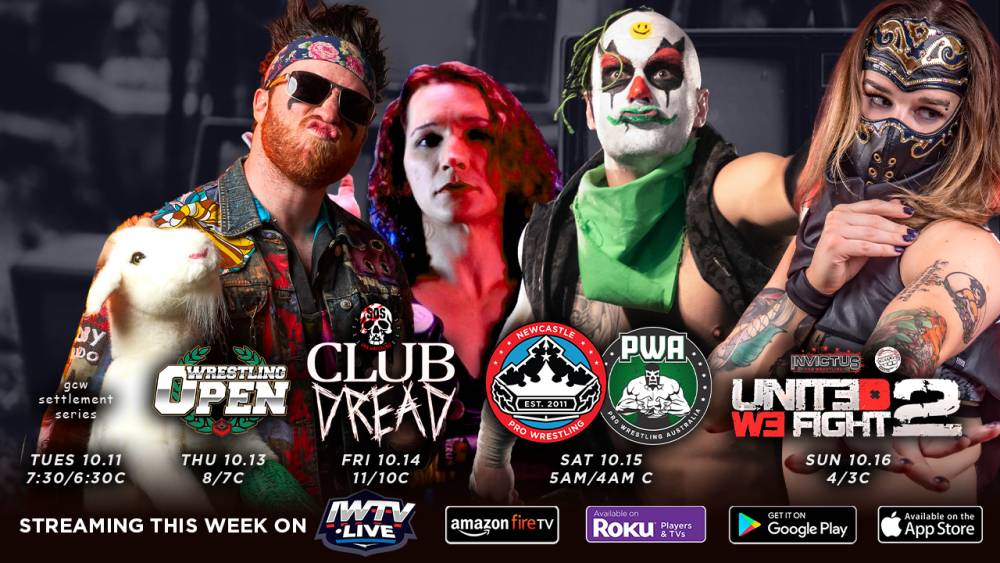 This Week On IWTV: GCW, Wrestling Open and more
Five events stream live on IWTV this week, including shows from GCW, Wrestling Open, SOS Wrestling, Newcastle Pro and Invictus Pro.
Tuesday, 10/11, 7:30pm EDT - GCW Settlement Series 4
Thursday, 10/13, 8pm EDT - Wrestling Open streams LIVE on IWTV!
Aaron Rourke vs Bobby Orlando
Ryan Clancy vs Crowbar
Tracy Williams vs Shazza McKenzie
Pedro Dones and The Mane Event vs Jhonny Santos and Waves And Curls
Friday, 10/14, 11pm EDT - SOS presents Club Dread LIVE on IWTV!
SOS Championship: Steve Migs (c) vs Dark Sheik
SOS Tag Championship: C4 vs Re:Loaded
Adam Ryder vs Cal Jak
Pitfall Jones vs Rook Kelly
plus Ethan HD, Rebel Kel, Drexl and Malcolm Phlex
Saturday, 10/15, 5am EDT - PWA X Newy Pro streams LIVE on IWTV!
Jack J Bonza vs Bob The Viking
Middleweight Unification: Mick Moretti vs Dazza
Sunday, 10/16, 4pm EDT - Invictus Pro presents United We Fight 2 LIVE on IWTV!
Invictus Pro Tag Team Championship: Milk Chocolate (c) vs Faceless Ones vs Fight Or Die
Invictus Pro Women's Championship: Edith Surreal (c) vs JC Storm
PJ Savage vs PB Smooth
Marcos Santiago vs CPA
Watch all five events live with your IWTV subscription.