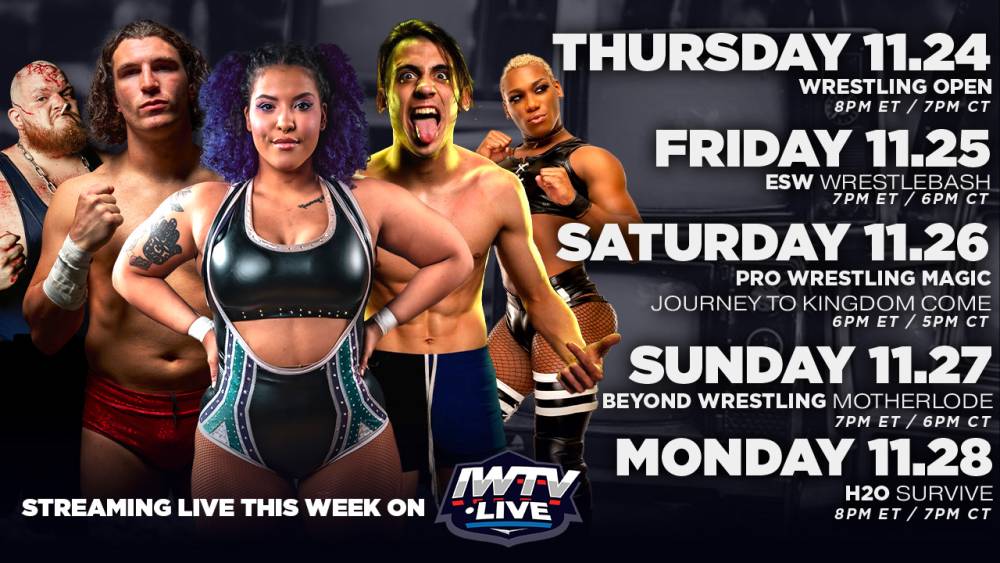 Thanksgiving Weekend On IWTV: Wrestling Open, Beyond, H2O and more!
Thanksgiving weekend on IWTV will see five events stream live featuring shows from Wrestling Open, Empire State Wrestling, Pro Wrestling Magic, Beyond Wrestling and H2O.
Thursday, 11/24, 8pm EST - Wrestling Open presents the Autumn Classic
Channing Thomas vs Alec Price
Eliminator Cup: Miracle Generation (c) vs Mane Event
Bull Rope Match: Steven Stetson vs Tyree Taylor
Two Out Of Three Falls: Ichiban vs Brad Hollister
Allie Katch vs LMK
Shook Crew vs The Haven
Elimination Match: Even Stevens and Nu Graysons vs CPA, Gal Barkay, Ryan Clancy and 50 Cal
Love, Doug vs Pedro Dones
Friday, 11/25, 7pm EST - Empire State Wrestling presents Wrestlebash XII
ESW Interstate Championship: Alec Price (c) vs Atticus Cogar
T4 Summit First Round: Bang Bros vs To Infinity And Beyond
Bill Collier vs Dan Maff
Jordan Oliver vs Tre Lamar
Adena Steele vs Katie Arquette
Last Chance Battle Royal
Madman Fulton vs Gregory Iron vs Cole Radrick vs Jay Freddie vs Delirious vs Battle Royal Winner
Saturday, 11/26, 6pm EST - Pro Wrestling Magic presents Journey To Kingdom Come
Pro Wrestling Magic Championship: Dan Maff (c) vs Steve Pena
Pro Wrestling Magic Women's Championship: JC Storm (c) vs Indigo
Darius Carter vs JGeorge
Vinny Pacifico vs Sebastian Cage
New York City Warfare: Angelo Carter and Joseph Alexander vs Shotgun Adams and Merc
Dark Arts Championship: Alex Reiman (c) vs Smiley vs Sonny Kiss vs Steve Off
Ruthless LaLa vs Rebecca Scott
Jr Heavyweight Championship: Donovan (c) vs Joe Krule
RTB vs Deathrow
Sunday, 11/27, 7pm EST - Beyond presents Mother Lode
Masha Slamovich vs Willow Nightingale
Alec Price vs Ortiz
B3CCA vs AKIRA
Matt Tremont vs Channing Thomas
T4 Summit First Round: Shook Crew vs Kings Of The District
Bussy (Allie Katch and Effy) vs Teddy Goodz and Little Mean Kathleen
Miracle Ones (Dustin Waller, Kylon King and Ichiban) vs Dezmond Cole, Tristen Thai and Gabriel Skye
To Infinity And Beyond vs Brick City Boyz
Ray Jaz vs Tyree Taylor
Brad Hollister vs Love, Doug
Aaron Rourke vs Ryan Clancy
Andy Brown vs Brooke Valentine
Monday, 11/28, 8pm EST - H2O presents Survive
H2O Championship: Manders (c) vs Jeff Cannonball vs Deklan Grant vs Ryan Redfield

Danny Havoc Hardcore Championship: Brandon Kirk (c) vs Chris Bradley vs Jimmy Chondo Lyon vs Marcus Mathersbr>
Rocket vs Janai Kai

Sawyer Wreck vs Terra Calaway

Hybrid Championship: Adonis Valerio (c) vs GG EVerson

Reid Walker vs ?

Duncan Aleem vs Frank Bonetti

Hardcore Match: Edward Hawkins vs Matt Tremont

Watch all five events live with your IWTV subscription.