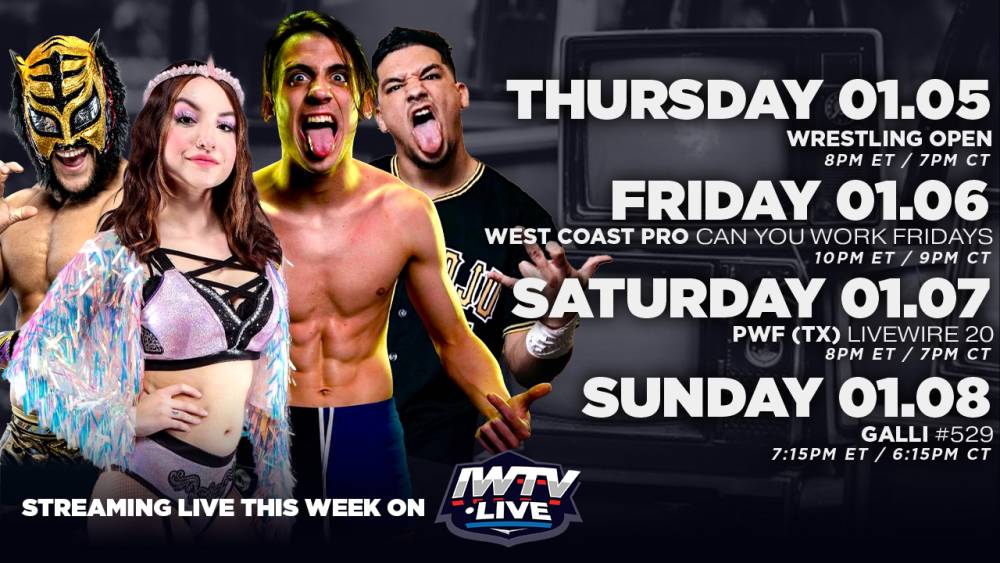 Live This Week On IWTV: West Coast Pro, Wrestling Open and more!
Five events stream live this week on IWTV, including shows from Wrestling Open, West Coast Pro, PWF (TX), DOA Pro Wrestling and GALLI Lucha.
Thursday, 1/5, 8pm EST - Wrestling Open streams LIVE on IWTV:
Iron Man Match: Channing Thomas w/Sidney Bakabella vs Alec Price
Tina San Antonio vs Layla Luciano
Friday, 1/6, 10pm EST - West Coast Pro presents Can You Work Fridays? LIVE on IWTV:
West Coast Pro Championship: Titus Alexander (c) vs Alec Price
Nick Wayne vs Alex Shelley
Bryan Keith vs Black Taurus
Kevin Blackwood vs Starboy Charlie
Vert Vixen vs Sandra Moone
Rickey Shane Page vs Vinnie Massaro
Team Filthy vs The Conglomerate
Robert Martyr vs Lazarus
Saturday, 1/7, 8pm EST - PWF streams LIVE on IWTV:
Lil Papi vs Jase Onesi
Maniac vs Muerte Silencioso
Amaris Blair vs Carmine Velcan
The Bulldogs vs Legion
Super-Mex Hernandez vs JJ Blake
T-Ray vs Kenny Kalypso
Edge Stone vs Caine Carter
Chris Carter vs Jus Nic
Tommy Bolton vs El Valdivia
Saturday, 1/7, 10:30pm EST - DOA Pro Wrestling presents Always Be Prepared LIVE on IWTV:
DOA Grand Championship: Rebel Kel (c) vs Kikyo vs Su Yung
Verified Championship: Adam Brooks (c) vs Sonico
DOA Tag Team Championship: Konami Code (c) vs The Dregs
Jake Manning vs Pitfall Jones
Steve Migs vs Vinny Pacifico
The Academy vs Max Burnside and Jaiden
Carl Randers vs Derrick Shaw
Hammer Brothers vs Wrong Side vs The Business vs Flamin Aces
AMIRA, Malcolm Phlex and Abigail Warren vs Heels 4 Hire (Caden Cassidy, Drake Kwon and Dean Cooper)
Sunday, 1/8, 7:15pm EST - GALLI Lucha Chapter #529 streams LIVE on IWTV:
Arez, Lince Dorado, Missa Kate and more!
Watch all five events LIVE with your IWTV subscription.