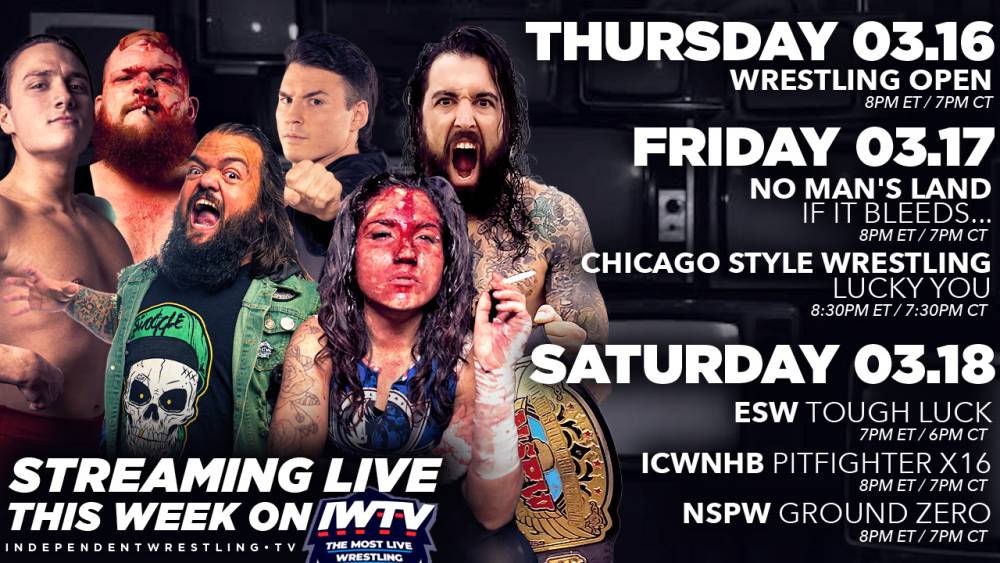 Live This Week On IWTV: ICW PitfighterX, Wrestling Open & more
Six events stream live on IWTV this week featuring shows from Wrestling Open, No Man's Land, Chicago Style Wrestling, Empire State Wrestling, ICW No Holds Barred and NSPW.
Thursday, 3/16, 7:45pm EDT - Wrestling Open Episode 63:
Wrestling Open Championship Tournament First Round: Ryan Clancy vs TJ Crawford
Wrestling Open Championship Tournament First Round: Bobby Orlando vs Aaron Rourke
Boulder vs Ichiban
Tina San Antonio vs Notorious Mimi
Friday, 3/17, 8pm EDT - No Man's Land Wrestling presents If It Bleeds:
Neil Diamond Cutter vs Clint Margera
Midwest Scum vs Kristian Ross and Chris Bradley
MM3 vs Lucky 13
Schwartzy vs Jimmy Chondo Lyon vs I Am Provider
Kasey Kirk and Randi West vs HoodFoot and Matt Tremont
Jess Moss vs Kelsey Reagan
Friday, 3/17, 8:30pm EDT - Chicago Style Wrestling presents Lucky You:
No DQ, CSW Championship: Axel Rico (c) vs Shane Hollister
Conan Lycan vs WARHORSE
Plus Swoggle and more!
Saturday, 3/18, 7pm EDT - Empire State Wrestling presents Tough Luck:
ESW Heavyweight Championship: Kevin Bennett (c) vs Mike Bailey
ESW Tag Team Championship: High Seas (c) vs Nu Backseatz
Jay Freddie vs Cole Radrick
To Infinity & Beyond vs Second Gear Crew
James Sayga vs Mattick vs Marcus Mathers vs Chael Connors vs Chase Oliver vs Jimmy Lloyd
Veda Scott vs Christina Marie
Bill Collier vs Joshua Bishop
Frank Feathers vs Vince Valor
Jeremiah Richter vs Vinnie Moon
Jerk Cockins vs TJ Epixx
Saturday, 3/18, 8pm EDT - ICW PitfighterX 16:
Tommy Vendetta vs Clint Margera
AKIRA vs Matt Tremont
Kasey Kirk vs Jeff Cannonball
Danny Demanto vs Dr. Redacted
Hoodfoot vs Casanova Valentine
Saturday, 3/18, 8pm EDT - NSPW presents Ground Zero:
NSPW Championship: Matt Falco (c) vs Kevin Blanchard
James Stone vs Travis Toxic
Tag Team Championship Gauntlet: Unctouchables (c) vs TDT vs SSWC vs VIB vs Wild Guyz vs Books And Looks vs ???
plus Loue O'Farrell and more!
Watch all six events live with your IWTV subscription.