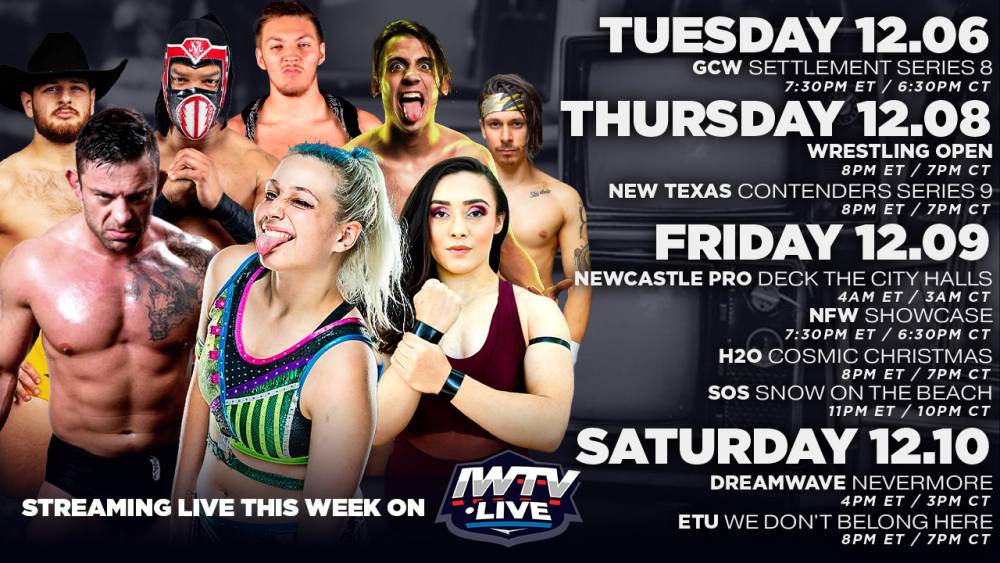 LIVE this week on IWTV: H2O, Dreamwave, Expect The Unexpected & more!
Nine events stream live this week on IWTV featuring shows from GCW, Wrestling Open, New Texas Pro, Newcastle Pro, Northern Federation Of Wrestling, H2O, SOS Wrestling, Dreamwave and Expect The Unexpected.
Tuesday, 12/6, 7:30pm EST - GCW Settlement Series 8
Thursday, 12/8, 8pm EST - Wrestling Open Episode 49
Eliminator Cup: Miracle Generation (c) vs Stetson Ranch
Best Of 5: Ryan Clancy vs Danny Miles
Anastasia Morningstar vs Shannon LaVangie
Thursday, 12/8, 8pm EST - Texas Contenders Series 9
Mysterious Q vs Shota Suzuki
Ninja Mack vs Stevie Hendrix
Jus X Nick vs Carlos Diaz
The 8th Day vs Doz Camachos
El Valdivia vs Alec Bullsdale
Pac Ortega vs Isaac Morales
Buzzsaw Samuels vs Drew Dredd
plus JJ Blake and more!
Friday, 12/9, 4am EST - Newcastle Pro presents Deck The City Halls
Tag Team Championship, Tables Match: Blue Nation (Adam Hoffman and Rita Stone) vs The Velocities (Paris De Silva and Jude London)
Heavyweight Championship: Carter Deams (c) vs The "Chief" Rig
Middlweight Championship Unification Match: Unsocial Jordan vs Mick Moretti vs Dazza
Women's Championship: Lena Kross vs Charli Evans
Scott Green vs Parker Tomas vs Jimmy Townshend vs Ben Braxton vs Mat Diamond vs Jack J Bonza
North Shore Wrestling vs Sheriff Department and ??
Friday, 12/9, 7:30pm EST - NFW presents Showcase
ESW Interstate Championship: Alec Price (c) vs Tre Lamar
Jordan Oliver vs TJ Crawford
Wasted Youth vs Shook Crew
Social Media Championship, No Holds Barred: Jack Tomlinson vs Brett Ryan Gosselin
Miracle Generation vs Black & Yellow
Friday, 12/9, 8pm EST - H2O presents Cosmic Christmas
Matt Tremont vs Billie Starkz
Austin Luke vs Brogan Finlay vs Brandon Kirk
H2O Tag Team Championship: Kristian Ross and Chris Bradley (c) vs Anthraxx and Alex Stretch
Sawyer Wreck vs Ryan Redfield
Sean Henderson vs Deklan Grant
Hybrid Championship: GG Everson (c) vs Johnny Radex
CWO vs Jeff Cannonball, Terra Calaway and Jess Moss
Friday, 12/9, 11pm EST - SOS Pro Wrestling's Snow On The Beach
SOS Championship: Steve Migs (c) vs B-Boy
Island Rules Championship: Rebel Kel vs Dean Cooper vs Max Burnside vs Ghost Pirate Brian vs Rook Kelly
Pitfall Jones vs Carl Rae Jepsen
Tag Team Championship: Re:Loaded vs Flamin' Aces
The Butler vs Amira
Hair vs Fur: The Academy vs C.A.T.
Saturday, 12/10, 4pm EST - Dreamwave's Nevermore
Gringo Loco vs Komander vs Arez vs ASF
Davey Richards vs Ninja Mack
Evil Uno vs Bucky Collins
Connor Hopkins and Christian Rose vs Hunter Holdcraft and 12 Gaige
Good As Gold Rumble
Saturday, 12/10, 8pm EST - Expect The Unexpected presents We Don't Belong Here
Jordan Oliver vs Marcus Mathers
Danny Demanto vs Matt Tremont
Bryan Keith vs AKIRA
B3CCA vs Billie Starkz
Gabriel Skye vs Brogan Finlay vs Dezmond Cole vs Tre Lamar
plus Anthony Gamble, Yoya, Adonis Stone, Miracle Generation, Juba, Vargas and more!
Watch all nine events live with your IWTV subscription.